Enterprise Ecommerce SEO Case Study:
Scaling to 1.2m monthly visitors
From 400,000 monthly visitors to 1.2m in 12 months
Organic search growth had plateaued for the last 2 years
Little link building due to high existing authority
Fixed major technical issues (30000 products but over 4m pages)
Unlocked long tail category targeting with faceted navigation
Optimised existing categories and products with a templated approach
Concerted content strategy – Removed 500 pages, optimised 200 and created 300 pieces of content 
This enterprise ecommerce brand has over 30000 products and had previously seen a lot of growth from SEO.
Having plateaued for 2 years with around 400,000 monthly visitors they wanted to push through this barrier and scale the channel further – and felt this wasn't possible with their existing agency.
Being built on a custom platform with in-house developers, SEO was given top priority during 2021 having identified a huge opportunity of untapped keywords.
Technical SEO audit
Previous work on the custom-built site had been solid, and the general structure of the site meant core pages were indexable and readable. 
Despite this, there were multiple issues found during this comprehensive technical audit including: 
Poorly implemented faceted navigation causing a huge crawl wastage
Thousands of broken internal and external links within the site from legacy changes
Poor internal linking structure
Widespread page speed issues 
Additional structured data opportunities 
Defined a clear SEO strategy
We worked to build a clear SEO strategy and action plan for the year, to be executed internally with some external support managed by myself.
This covered the full spectrum of SEO including:
Technical improvements
On page optimisations
Content strategy
Major technical improvements 
With over 4 million pages on site, despite only 30000 products and ~300 categories, there was a clear requirement to improve the crawl budget.
We fixed a lot of issues to improve the crawlability of the site focusing a lot of our efforts on site speed improvements and internal linking structure.
Unlocked long-tail opportunities with the faceted navigation
The faceted navigation was messy, to begin with, but as part of the fix we made it 'SEO friendly' to enable us to target long tail keywords for the categories that they sell.
The specific keywords had low search volume, however add up to much more than the generic terms they had been targeting along with much lower competition.
Check out this article by Andy Chadwick for more information on faceted navigation optimisation.
Concerted SEO-led content strategy
By their own admission their previous content marketing strategy had been 'loose' and thus had created a lot of very thin content that drive no traffic at all.
A full content audit was performed which resulted in over 500 articles being culled and 200 existing articles being refreshed, updated and republished.
Additionally, there were a lot of potential content opportunities which came out of some in-depth keyword research. We prioritised new content using the TOP framework.
This content not only drove traffic but also conversions and links naturally. Adding internal links to product and category pages further boosted their value to the brand.
Making SEO a business priority led to a 180% increase in organic search traffic – which led to a 150% increase in organic revenue. 
This drove a return on investment of over 10x for the period – with this only increasing over time.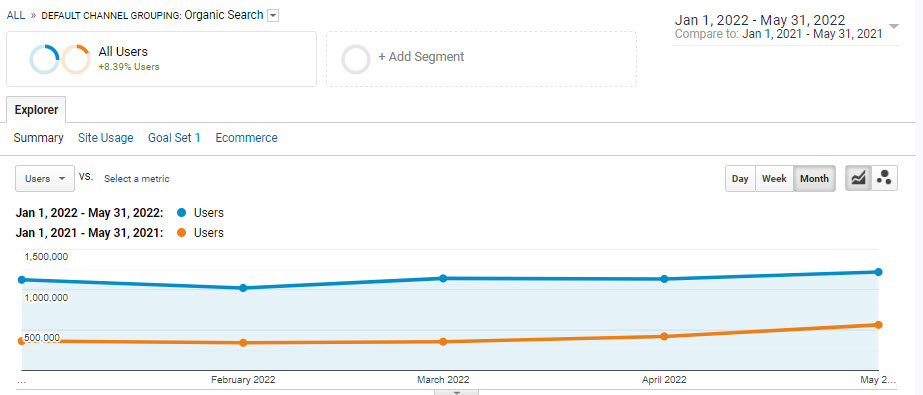 Want to grow your organic search revenue?
Your search for a reliable ecommerce SEO consultant is over! Click the button below and fill me in on your project and let's get started today.