Are you creating content for your online store…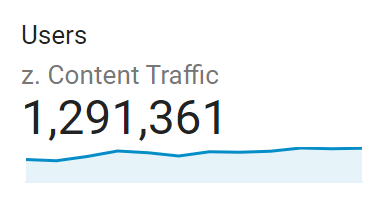 …but it's just not getting many views?
You know content should be helping your business grow, but yours isn't getting the traction it needs?
A common misconception is that you need to write more often to get more traffic.
But in reality…
Content needs to be targeted and promoted effectively to see the best results
Content without promotion = no traffic. And poorly targeted content = no conversions.
The thing is?
Traffic isn't difficult to get, heck you can go out and buy it all today if you wanted.
But what if you could get it for FREE?
I'm going to show you step-by-step how to not only find the best content to create for your ecommerce store to drive your sales and your email list.
But also how to promote it!
This is the exact process that I used to bring over 100,000 visitors per month to a single ecommerce store.
Yep.
Over 1,000,000 visitors every year!
By the end of this guide, you'll learn how to find the best content for your online store to drive the traffic.
AND how to promote it once you've created it.
Even if you're brand new at content, have a low budget, or just want to polish up your knowledge.
Keep reading to learn how…
Why should I care about content?
Content is everywhere.
Everything is content.
First off, competition is fierce!
Right now there are over 80,000,000 blog posts published EVERY MONTH on WordPress CMS alone!
So you need to cut through the clutter and stand out.
Content Can Drive Significant Returns For Your Ecommerce Brand

Content results can create compounding returns.
By creating the RIGHT content, consistently (not frequently) the results from creating content can significantly add up over time.
This is why evergreen content is so important.
Just take a look at the graph below from Tom Tunguz, you can see the returns of content that generates long term traffic from evergreen content.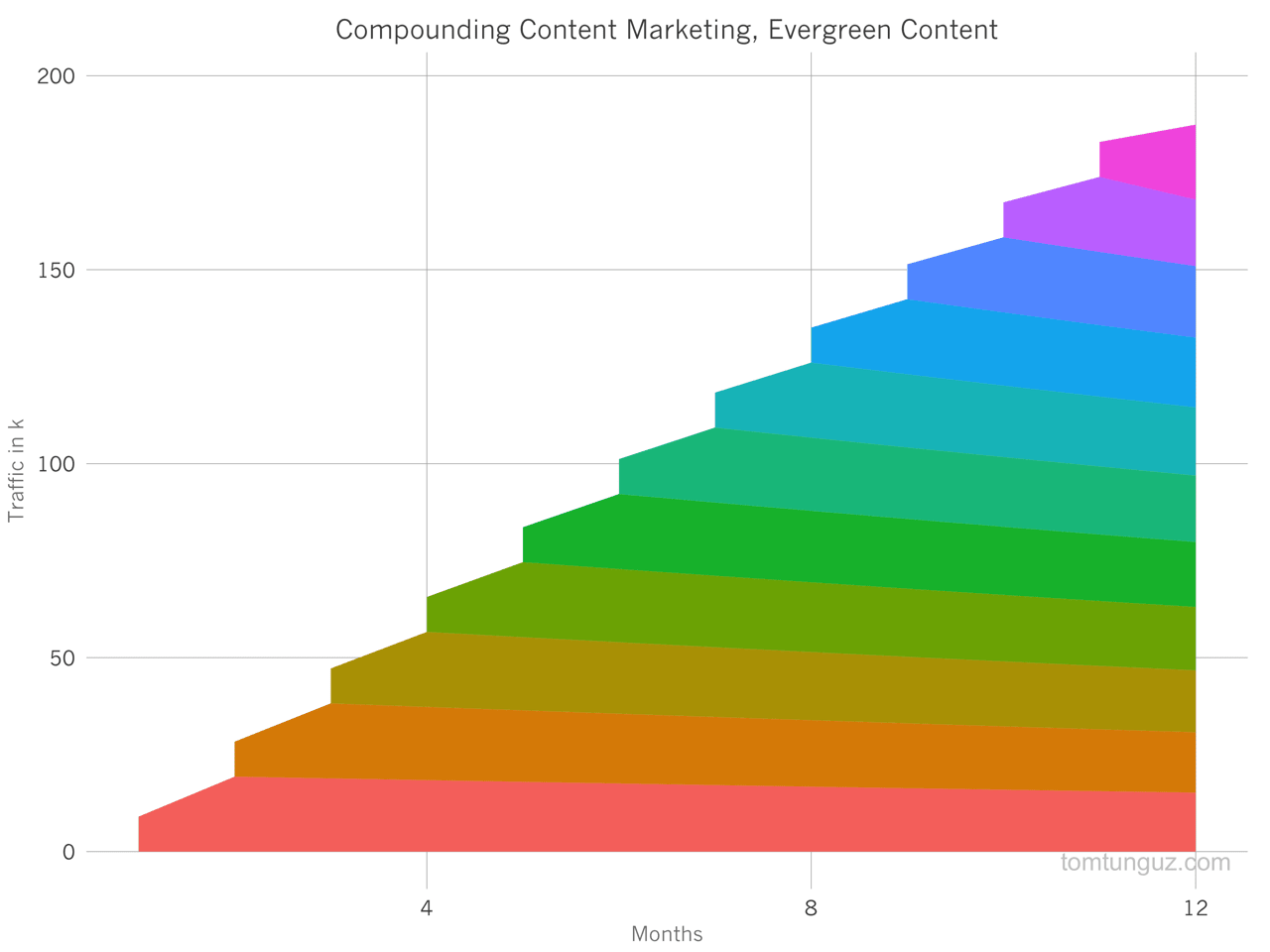 Content can create long term SEO benefits to your brand.
Driving consistently growing traffic month after month.
Expanding your brand to new potential customers without having to spend money for every visitor like you do with paid social and search.
What would an extra million visitors a year mean for your ecommerce brand?
Why Your Content Fails?
Naturally, if it was easy everyone would be doing it and seeing insane results.
But people cut corners.
And just create content and expect to see results.
But creating the content is just a small part of the whole process.
Common problems I see ecommerce brands facing when creating content:
Creating content that their audience just doesn't care about
Creating content quickly because they think they need a lot of it
Creating content their audience wants to read but doesn't know exists
Creating content that gets traffic but doesn't convert to sales
If you don't make these mistakes, you'll be on for a winning content strategy.
How To Make Content For Ecommerce That Gets Results
Here's a mile-high overview of the 4-step process:
IDENTIFY the right content that has the potential
Create the content that drives RESULTS
PROMOTE your content to get traction
Turn the traffic into SALES
The best part?
It can work in almost any industry.
How I Got 100,000 Visitors/Month Through Ecommerce Content Marketing
If you don't know me yet, this is my new blog, dedicated to helping ecommerce brands grow.
My goal is to help you get out of the difficult world of content and help you scale with content, SEO and email.
I create case studies and guides, similar to this one you're reading right now
It's a competitive world in content marketing for ecommerce brands.
But I've had repeated success using this process.
Now I'm not telling you this to brag.
What I'm trying to explain is that you can get results like this, even with a small team or limited resources.
My Results Using The Strategy
Before I break down the process, I want to share some specific results.
The brand was a home decor retailer, based in the UK, offering high-quality home decor for every room in the house, distributed all over the world.
For the brand, we created on average two pieces of content each month.
From an almost standing start.
They were generating around 4,000 monthly visitors to their blog, but it had been pretty static for well over a year.

I set to work to find the content that their audience wanted to read.
Created the content in a way to generate both traffic and sales (and email subscribers).
Promoted the content to build links, drive traffic and shares to reach the relevant audience.
And within 24 months, we hit our 100,000 visitors/month goal.

I'll be using this brand as the case study for the rest of this post.
How This Ecommerce Content Marketing Strategy Works
A reminder of the top-level process:
IDENTIFY the right content that has the potential
Create the content that drives RESULTS
PROMOTE your content to get traction
Turn the traffic into SALES
Let's break it down…
Step 1 – Identifying The Content You Should Create
So how do you know what type of content to create?
The answer begins at the end, what's your goal?
We had two core goals:
Dramatically increase organic traffic without paying for it
Convert visitors to customers either on their first visit or in future
The difference between getting traffic and getting traffic that converts to content is heavily dependent on the intent of the keywords you target.
How do you start finding ideas for content?
Look at what others do.
Many would say to start with your competitors but who is to say they know what they are doing?
For traffic-driving content, you want to look at the most popular blogs and publications in your industry.
That meant we looked at the likes of Houzz, Freshome, House Beautiful, Elle Decor, and in our space, we also looked at Wayfair because they have it nailed.
Look at the content that drives the most traffic for these sites:
Head over to Ahrefs
Put their domain into the search
Click "Top Pages" to see what content is driving the most traffic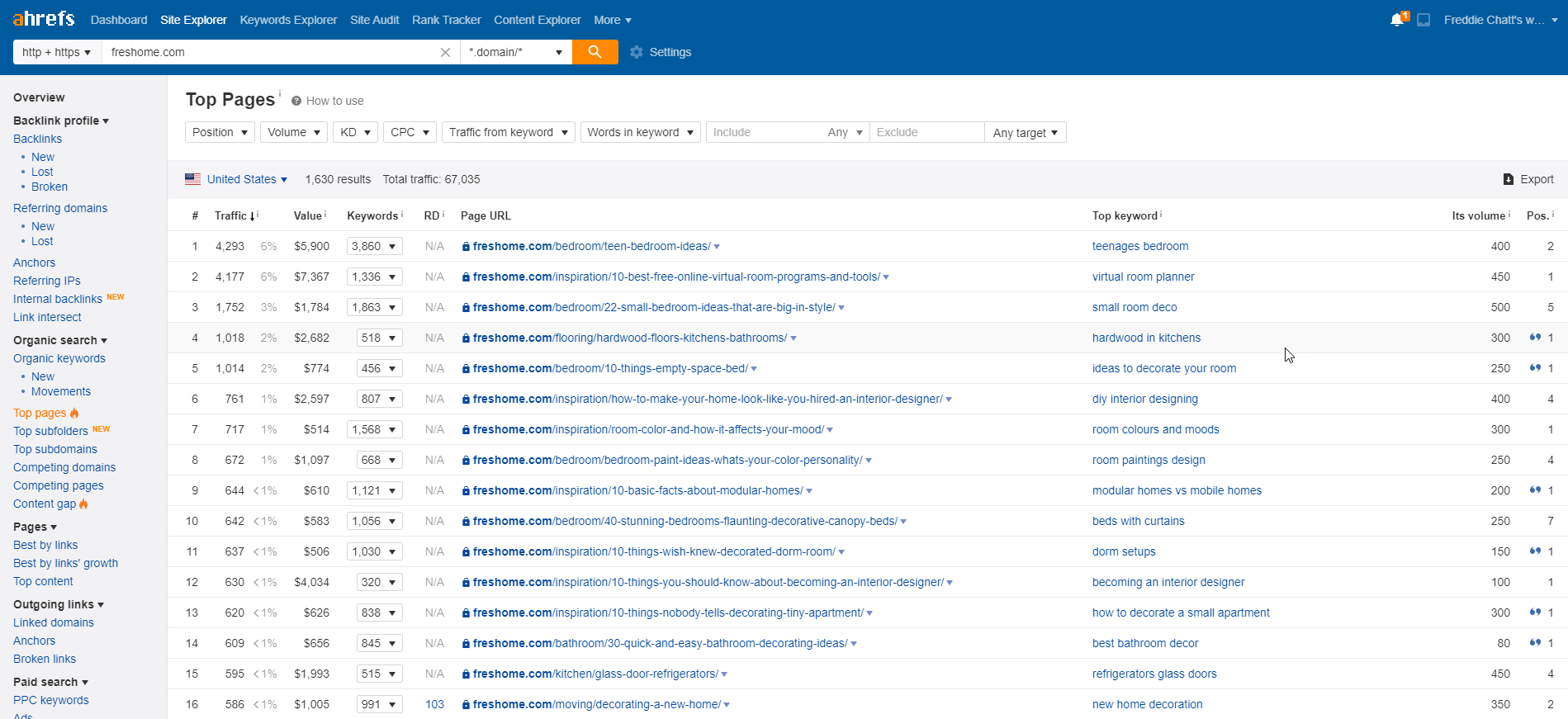 Export these out and group them together.
For each specific article/topic, look to see what other keywords they rank for and make sure you note these down.
A lot of this content doesn't target very commercial intent focused keywords. So expecting to convert these visitors on their first visit is naive.
Instead, each topic needs a dedicated content upgrade to convince them to sign up to your email list.
This is how you make sure you convert these visitors at some point.
Note: You don't need a completely dedicated content upgrade for each piece of content you create (although that would get the best results). Instead, you can group them together in topic clusters so any article that is around the topic if bedrooms, can have a bedroom-orientated lead magnet to convince them to sign up.
At this point, we already had a long list of high-traffic potential content.
But we wanted more, we wanted to find some content that would not only drive traffic but had a higher chance of converting on that visit. For this, we used content ideas driven from pain-point SEO.
When thinking about this type of content, when you see the keywords you will notice a clear difference in the intent.
Someone searching for 'bedroom ideas' is really looking for inspiration.
Someone searching for 'bed linen buying guide' is clearly showing intent to purchase much sooner.
This takes more thinking rather than diving straight into the research.
Thinking what people may be searching for around the problem that your product solves.
The brand serves a very wide variety of products in the homeware niche.
So we focused down on a few categories to start with.
A great way to start this is to find the questions people are asking about products, two great ways of finding these: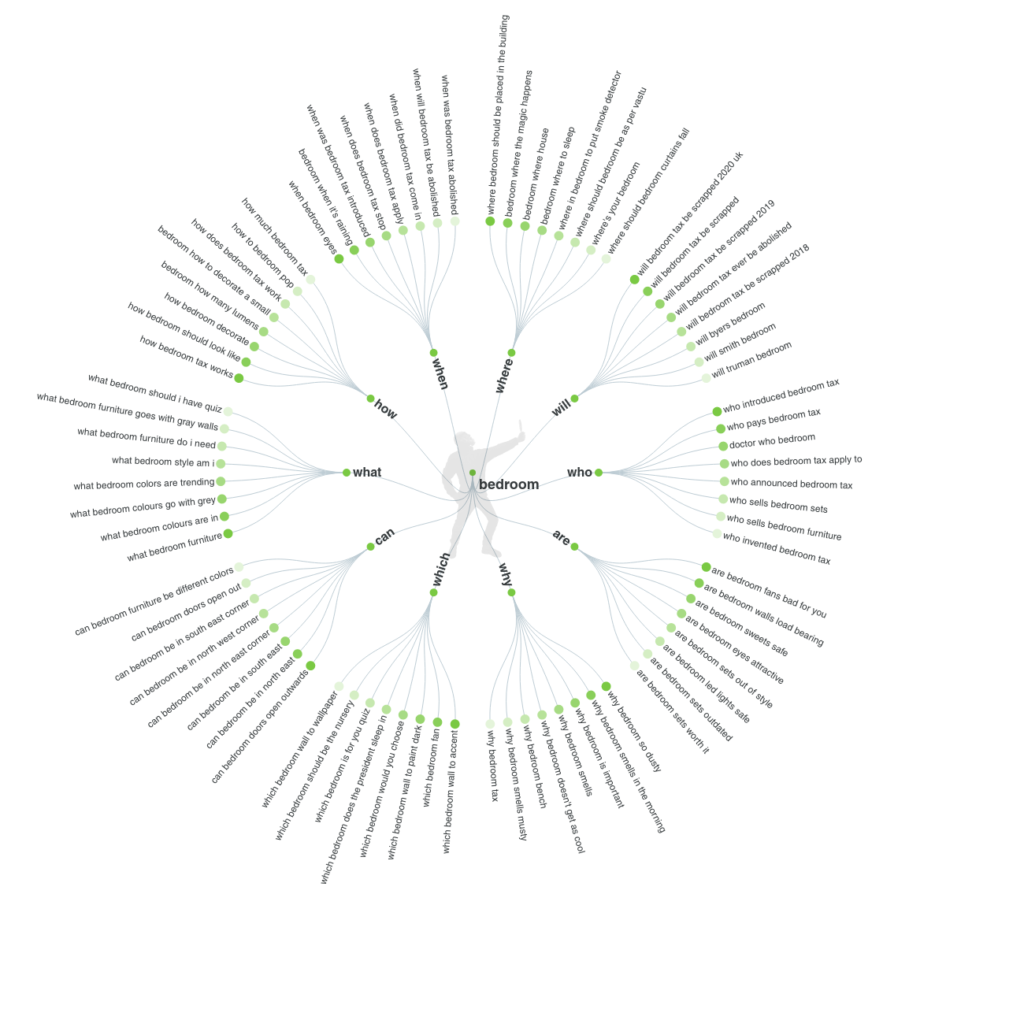 This gives an insight into the type of questions people are asking about the product.
Answer these questions in various types of content such as:
Buying Guides – Detailed guides on what shoppers should look out for when purchasing that type of product. For example "bed linen buying guide".
Comparison Posts – This framework objectively compares the product to other brands product OR another similar type of product. For example, "Food Processor vs Blender".
Best Product Lists – This helps users find the best type of product for their needs, for example, "best candles for relaxation".
You will find that a lot of the keywords for these topics will have much fewer search volumes than that of high traffic driving keywords.
That is fine.
These keywords have much higher intent and likely lead to directly attributable sales once they start ranking.
Now you have all your content ideas, it's time to get creating…
Step 2 – How To Create Content That Drives Results
So much advice says "create great content".
But what does that mean?
Simply put, your content needs to reward the intent of the reader as effectively as possible to whatever they have searched for.
It needs to be the best piece of content ever made.
Why would someone want to read or watch your content if something better exists?
Who cares what the 6th tallest building in the world is? We only care what is #1.
Every ecommerce platform has some kind of blog CMS, while some may continue to feel an afterthought (looking at you Shopify), you can still create the best content on any of these platforms.
A quick process we followed to ensure we created the best piece of content we could…
We looked up the keywords we were trying to rank for that piece of content.
We put ourselves in the reader's shoes to try and think about what type of content we would want to see if we were searching for it.
We studied the top 10 results for our target keywords, reading every page from top to bottom and making notes about what that existing content did well, what could be improved, key things everyone mentioned, what people missed, etc.
We looked at the notes and looked at common themes as well as the unique parts that gave us inspiration for what content to create.
We reviewed the list of 'people also searched for' using Keywords Everywhere (incredible tool!) to understand more of the intent around the keyword.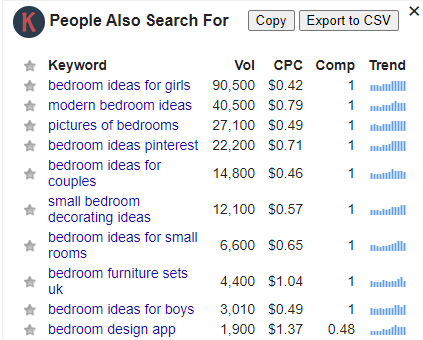 We used Ahrefs keyword explorer to find any relevant key questions around the core topic to also help with understanding the intent.
At this point, we had a good understanding of the type of content we wanted to create for our core topic, what types of multimedia we wanted to include, how long the article would need to be to have the best chance of ranking, etc.
You can even use content optimisation tools such as Clearscope or SurferSEO to maximise your chances of success.
The main tactics we used to make sure our content was better than those currently ranking in the top 10 were:
Include a variety of multimedia (video, gifs, graphics) – this is an incredible way of making you stand out, creating unique graphics can help increase dwell time and increase chance of picking up links.
Longer is not always better, but more depth almost always is – the 'longer is better' methodology has led to a lot of 'fluff' content but going more in-depth with your content is always a great way to have better content.
Add links to other relevant resources – this not only helps your readers find out more information, it gives you an easy outreach opportunity (more on that in the promotion section).
Include curated expert tips – in almost every content you create the chances are you can get a few tips or snippets of advice from experts. Simply reach out to them and ask them a really clearly defined question, chances are they'll send over a few words and will then share your content once it's live.
Create expert roundups with a twist – expert roundups were overdone, they worked well for a time and if you can put a twist on it then it can still work in many B2C industries. We crowdsourced images with a short tip alongside it as our twist that worked extremely well in the interior design industry.
A few examples of content we created (note: many of these may have been updated since publishing this post):
Rug Size Guide – Utilising some custom made graphics to make our content different to many already ranking pages. The guide links tightly into the same sizes on our product listing pages to help customers through their conversion funnel.
Bed Linen Buying Guide – A long guide, covering different components to look for when buying bed linen. From sizes to materials and including relevant tables to be extra useful to the reader.
Hygge: Complete Guide – When the Hygge concept started growing in popularity in 2016, we created an extremely in depth guide and tied in relevant product recommendations. We ended up with links from massive publications such as Yahoo Style and many super-relevant interior design blogs.
Bedroom Ideas – This one post drove over 1 million visitors over a 4 year period. We curated a lot of images from interior design bloggers and interior designers. This initial boosted promotion from all of their shares, alongside a lot of Pinterest promotion, led to over 300 linking domains at its peak.
Interior Design Styles – This post ties in expert tips into a detailed post which gave it the initial boost it needed to get some serious organic traction. High-quality original imagery and recommended products also help the article be more commercial and useful to the reader.
Step 3 – Promoting Your Content Like A Pro
Content promotion is potentially the most important part of the entire process.
So many fall into the trap of creating content, even keyword-targeted content.
And then hoping people find it.
Let me tell you.
It doesn't happen.
Unless you are a HUGE brand with thousands of links.
You need to promote your content far and wide to maximise your chance of being found, getting links and driving long term organic traffic.
We went through various experiments to work out what outreach works best for content promotion and the following offer by far the highest success rates on generating shares and links to our content.
Ecommerce Content Marketing Promotion
I'll take you through the exact processes for each type of outreach we performed for every piece of content we create, complete with the tools we used to streamline the process.
It's worth noting that not every piece of content you create will need to have every type of promotion listed here. If the content is targeting low competition keywords then you may even be able to rank with only adding internal links.
Internal Links
When you publish some new content, the absolute first thing you should do is go back to your older content and add a link to your new content (obviously only where relevant).
For low competition keywords, this can be an extremely powerful way of getting new content indexed and ranking quickly.
Even for higher competition keywords, getting your content indexed quickly will mean all the links you are about to build will work even quicker.
Reach out to people you've linked to in the article
This is the easiest win when it comes to content promotion.
As I mentioned in the previous step, adding external links to your content gives you a reason to reach out and let them know.
You may be worried about linking out to other sites thinking it may:
Harm your reputation
Damage your rankings
Lead readers away from your site
However, linking out can be an exceptionally powerful tool for giving your content some early traction with shares and open up doors for links in the future.
There are obvious exceptions to this, such as not linking to a direct competitor.
Anyway…
Because you gave them some SEO love by linking to them, you can ask for a small request in return.
Sharing your content.
Providing you are creating great content, this tactic has one of the highest success rates (based on an email to action) and gives your content the perfect initial boost – you might get lucky and they'll link back to you in future too.
Here's a real example email I sent to promote a piece of content to people I had linked to in the content: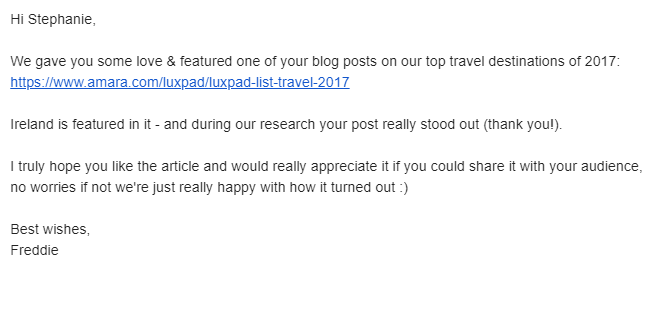 Reach out to people who have contributed to the article
If you've used one of the tactics in the content creation section and have some expert contributions to your content.
You'd be dumb to not let them know it's gone live.
This is another bread-and-butter outreach promotion you should be doing.
A quick thank you to them for contributing, hit them with an easy share link too (bonus points for personalising it to their contribution) and you'll have your first visitors to your content within minutes of it going live.
Here's a real example email I sent to promote a piece of content who had given a contribution in some way to the content:

Reach out to those written similar topic
The chances are that there are quite a few other pieces of content on the same topic you've created.
That's just the nature of the internet, right?
But fortunately, you've created the best possible piece of content on that topic.
So all of these people who have created content on the same topic would be in awe of your content with your unique spin on it.
What you do know about these people is that they are interested in the topic, so chances are if you get your content in front of them they will likely share it with their audience as it's relevant.
The most effective tool we used for this approach was to use Ahrefs Content Explorer.
Simply head over to the tool and enter your topic you are writing about.

To keep the opportunities as tightly aligned to your topic, change the drop-down from 'Everywhere' to 'In title' as this will give you better results.
Once you've hit search, you'll be presented with a list of articles people have written about the topic, these are your opportunities.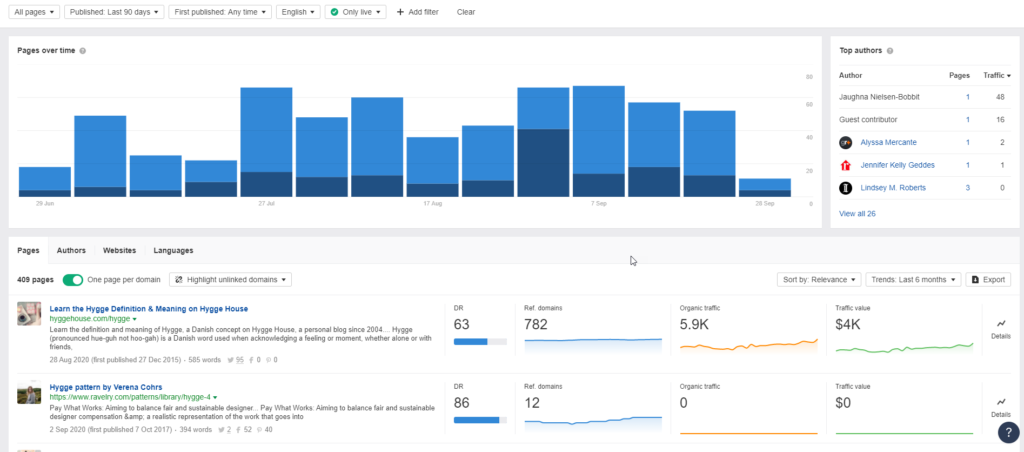 Before you export this list, there are a few extra filter options you need to further remove non-prime opportunities.
You need to:
Change 'Published' to last 90 days, this means you are reaching out to people who have recently written about the topic and not years ago. Keep things relevant.
Change language to your language (for me, English), we were only targeting the UK at the time so we kept it close to home.
Make sure it's only showing 'Live' articles, so no broken pages or websites will appear in your list.
Flick the 'One page per domain' switch so you only get one option for each site.
Now simply export these targets, find their emails and reach out once your content is live.
Here's a real example email I sent to promote a piece of content to people who had written about a similar topic:

Reach out to those shared similar topic
This is a really underused tactic for content promotion as most people just worry about the instant gratification of links.
Short term shares + long term links = consistent traffic.
When we first used this tactic, it was a labour-intensive job of searching Twitter for the content and seeing who shared it.
But then came Buzzsumo.
Buzzsumo makes it ridiculously easy to find the sharers of content.
Here's how…
Head over to Buzzsumo's Web Content search. Type in your topic and press search.

You'll now see a definitive list of every article published on your topic.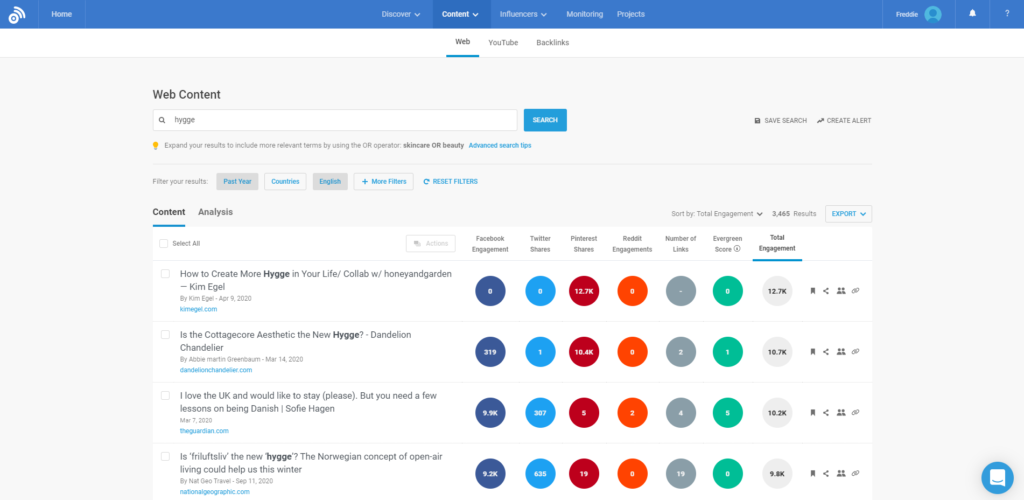 Now we want to find the people who have searched for the topic and the only publicly available sharers are from Twitter.
So now sort the list by the number of Twitter sharers.

Hopefully, there should be at least a few on the list that are into the hundreds of shares, this is a good number to move forward with.
For each article (I used the threshold of 100 twitter shares but it depends on how many are on the list), click the 'View Top Sharers' button.

These are your opportunities!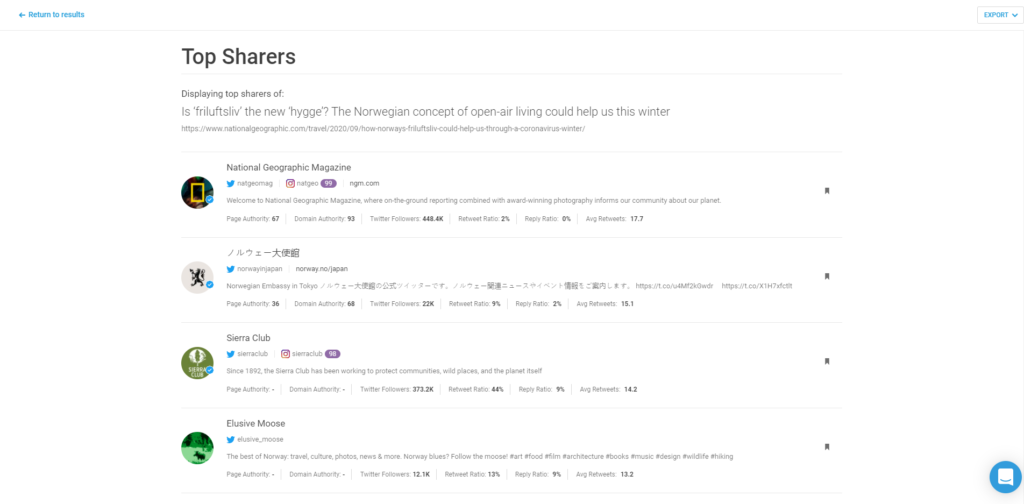 Now there are still a few steps to filter this list further. Once you've exported the list (button in the top right) the quickest way to filter through this list is:
Remove any accounts that don't have a website (that's how you will find their contact details and it becomes really difficult without this)
Set yourself a lower threshold on the number of followers (or followers to following ratio), we broadly used the 1000+ followers as a cut-off
Remove any brands, focus on individuals for your outreach
Now you are in a position to find these target's contact details and promote your content once it's live.
Here's a real example email I sent to promote a piece of content to people who had shared similar content on the same topic: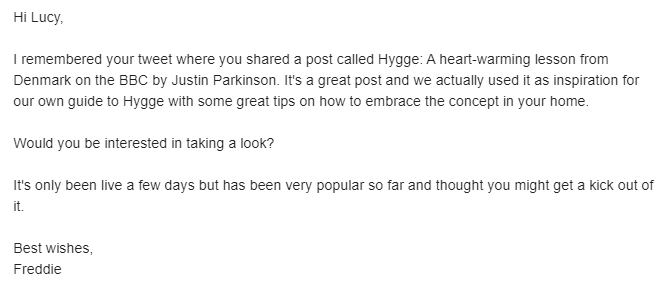 Note: It's slightly harder for tools to track who has shared content on Twitter but Buzzsumo still seems to pick up the vast majority of them.
Reach out to people who have round-ups on the topic
Every industry has its own round-ups, but they often come and go so you need to keep finding the new ones as they pop up.
Most people aren't proactive enough to get their content featured.
But again, the build it and they will come philosophy doesn't work for content.
Tell people your content exists.
By directly reaching out to the author of the round-up, you are making their lives easier.
They no longer need to go searching for amazing relevant content, they have it right in their inbox.
How we went about finding opportunities…
A little different to the other research where we went super-targeted on our content topic. For this approach, we will be broadening the search topic and you'll probably be best looking at your industry rather than the specific content.
If you search for a narrow keyword like "europe backpacking", you're probably not going to find any link roundups that cover that one specific topic. Instead, you'd search using keywords like "travel", "backpacking", "europe vacations" etc.
So head over to Google and search for queries such as
"keyword" + "weekly link roundup"
"keyword" + "friday link roundup"
"keyword" + "link roundup"
broad niche + "link roundup"
broad niche + "blog roundup"
"keyword" + "best articles of the week"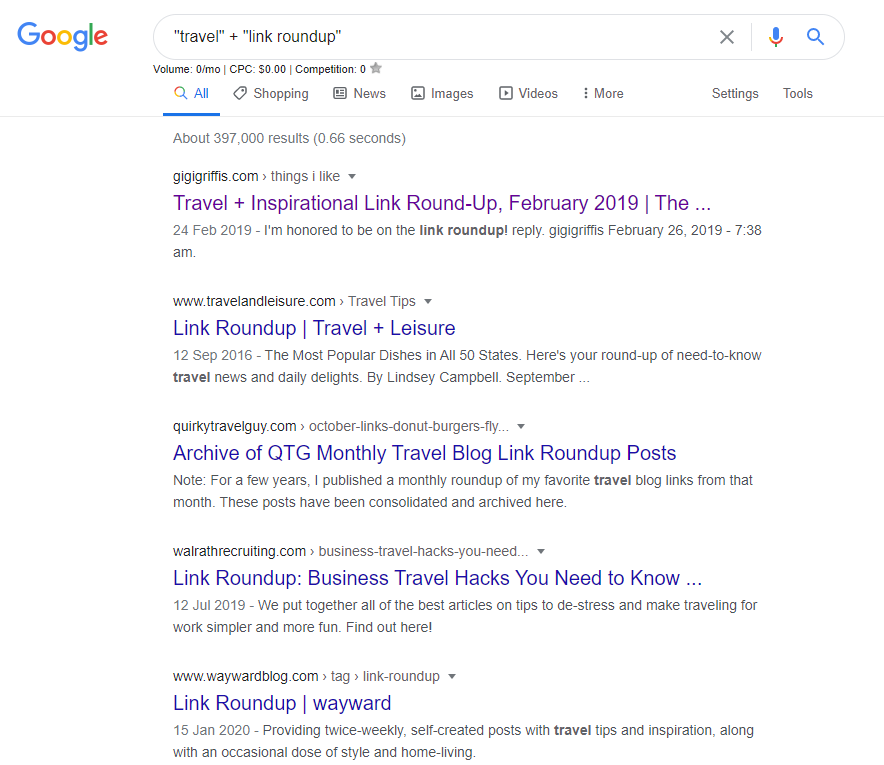 Review the results you find, find their contact details and reach out to suggest the inclusion of your latest incredible piece of content.
Here's a real example email I sent to promote a piece of content to people who had a regular roundup in our industry: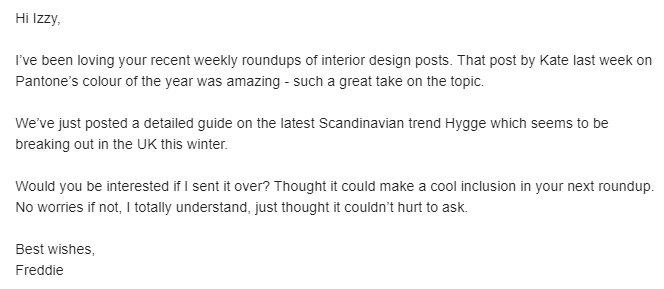 Share with existing audiences
If you have an existing audience who has previously shared your content, firing off a quick email to let them know about your latest post is an easy way to get a few early shares.
You can build this list slowly by reaching out to people and thanking them for sharing your content or contributing to your post etc.
Here's a real example email I sent to promote a piece of content to people who had contributed to a previous piece of content: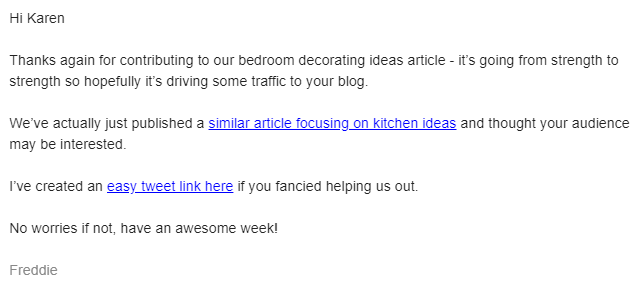 As you can see, some pieces of content receive a pretty comprehensive promotion.
This is crucial for the success of your content.
Never skimp on promotion or your content may never be found.
Now you're seeing traffic start to come in, both from the initial promotion push and organically as you start to rank for those keywords.
It's time to start turning those visitors into customers.
Step 4 – Turning Traffic Into Sales
There are two core ways to turn your content traffic into sales.
Convince them to purchase on that visit (difficult, but doable)
Convince them to part with their email address and convert them via an email flow (much easier)
Different types of content lend themselves to each approach.
Top of the funnel – they are less product aware or even problem aware.
Bottom of the funnel – they know the problem they are trying to solve, they just need to be nudged in the direction of your product pages.
Converting Top of the Funnel Ecommerce Traffic
We took a long-term view of our top of the funnel traffic, we knew that we could drive high volumes of this traffic but they almost certainly will not convert on that first visit.
However, we knew they would be at some point interested in our products based on what they were searching for.
So we gave 100% focus on converting these visitors into email subscribers.
To do this we created various relevant lead magnets for our content.
For example, if you were reading our article on Hygge, then we invited you to sign up to get a Hygge checklist which then added users onto our email list (note: this was pre-GDPR, pop-ups look very different now)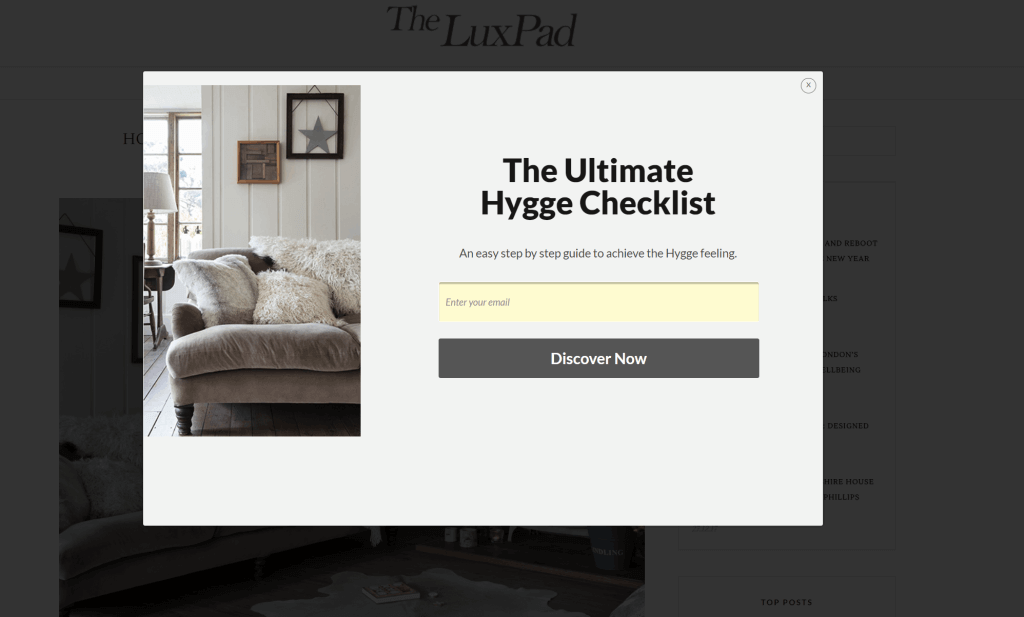 Whilst this one was created for this article itself. We created a few which were used across multiple articles. For example, any piece of content that was around the topic of bedrooms had the same lead magnet.
This produced insane results.
Driving over 10,000 new email subscribers every month at its peak (over 5%+ sign up rate).
But we weren't ready to stop there.
Each of these lead magnets was accompanied with a unique welcome sequence of emails to encourage the subscriber down the funnel and ultimately to make a purchase with us.
The flows went roughly like this and lasted around 25-30 days:
Email 1 – Delivery of the download they signed up for. Very simple email, with one link to whatever they signed up for. No need to overcomplicate this, let them have what they want.
Email 2 – Send relevant content pieces further down the funnel. Give more information about the topic they've been looking at. For example, if they've been looking at bedroom ideas, offer them content on different kinds of beds, bedding, etc.
Email 3 – What type of [room] do you like? Learn more about your subscribers (and personalise their future emails) by getting them to click on an image of what style they prefer. This will drastically increase the chances of them becoming a customer.
Email 4 – Products + content depending on what clicked on. Based on the click in the last email, send an email of relevant products (and content if you have it) to introduce them to your best selling products for that style.
Email 5 – Here's an exclusive discount code (valid for 7 days) + reason to buy from us. Now we've shown them what we offer, it's time to try and tempt them if they haven't already made a purchase by giving them an inventive code for a small discount but include urgency by it only lasting 7 days.
Email 6 – More content, products, buying guides. Offer them some more content, products, and buying guides to offer as much help as possible. If you have the resource, invite them to contact you to help discuss their options.
Email 7 – Your code is expiring today. Create that urgency with the code expiring email which could be the driver they need to buy your product.
Converting Bottom of the Funnel Ecommerce Traffic
Bottom of the funnel content often comes with much (read: MUCH) less traffic opportunity when compared to top of the funnel content.
But the rewards can be more than worth it when it comes to investing in this type of content.
The users mindset is much closer to making that purchase decision and it's easier to push them to convert.
We utilised two core approaches to entice users to convert from bottom of the funnel content.
Firstly, we made it easy for users to find super-relevant products to what they are reading by adding shoppable elements to the content.
Secondly, because buying furniture or home decor usually a pretty long time.
No impulse purchases here.
So similar to the top of the funnel content, we also tried to get the visitors onto the email list.
The difference this time is the incentive we use to entice them is by offering an introductory discount.
But not just any old pop up.
Depending on the content they were reading, we tweaked the pop up to make it more relevant to the user.
For example, if you are reading content about a certain brand we sold you would receive a pop up that both mentions that brand as well as an image featuring products of that brand.
This technique saw an increase in sign up rate on these pages of over 30%.
This could be you
So I've gone through everything we did to grow our organic traffic through content.
And this could be your brand too.
Yes, it takes time.
Yes, it takes effort.
But using content to scale traffic to your online store can unlock a huge new revenue channel.
What would over 1,000,000 extra visitors a year to your store mean?
---
Want these results for your online store? Drop me an email at freddie@freddiechatt.com and let's chat.