Clearscope remains a popular, effective SEO tool, recognized for helping writers and marketing professionals alike produce perfectly optimized content for their clients or business.
It's a useful tool in the content creation process, but is it the best? Let's find out!
What is Clearscope?
Clearscope.io is a keyword research and content optimization tool. Clearscope grades content on the use of relevant terms as well as the relevance and comprehensiveness of the piece.
The purpose of Clearscope is to ensure that your content is perfectly optimized so it will appeal to the ranking algorithm of Google and similar search engines. This will enable your content to achieve a higher ranking on the SERP and therefore garner a lot more organic search traffic.
Pros
There are several ways that search engines like Google rank content and websites, including the relevance of the content, as well as the ease-of-use of the site in general. There are way too many factors for the writer to try and keep track of, right?
Therefore, a content optimization tool like Clearscope can prove incredibly useful – invaluable, even, unless you fancy trawling through dozens of sites yourself, searching for keywords? Using a content optimization tool can ensure you earn your piece the best possible ranking and drive the maximum amount of organic search traffic your way.
Cons
Alright, so if Clearscope is just so amazing… why isn't everyone using it? Well… it's a little pricey. If you have the budget for it then great, fabulous… go for it! Unfortunately, many smaller business, personal ventures, and start-ups are just not able to spring for it.
The Top Alternatives to Clearscope
Everyone deserves a great content optimization tool at their disposal, right? Let's take a look at a few popular alternatives to Clearscope: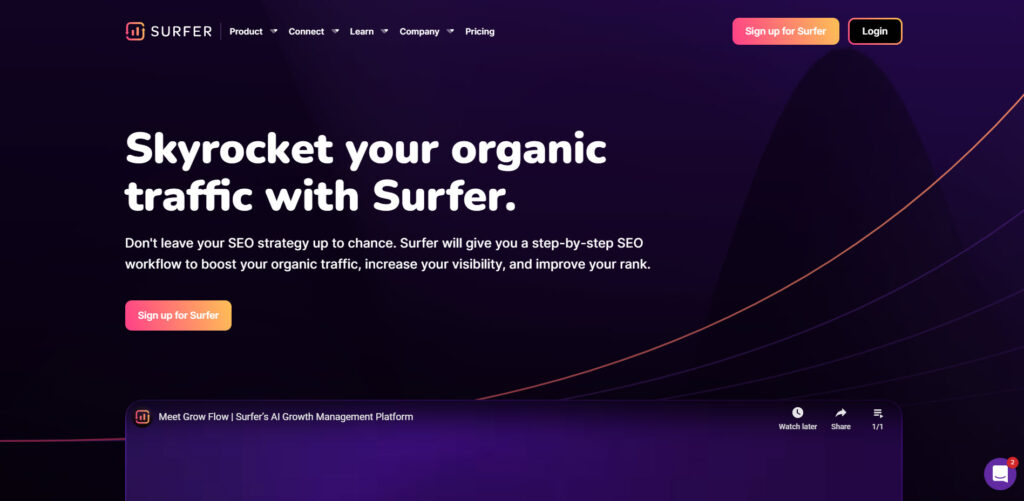 1. Surfer SEO
Let's start with a firm favourite competitor among the Clearscope alternatives: Surfer SEO. Honestly, I love Surfer SEO and I know I am not alone!
Surfer integrates an effective keyword research tool to help the user create high-quality content and maximize the potential of on-page SEO. What really makes Surfer stand out is its high-quality competitor analysis. This proven ability means that Surfer SEO regularly earns content a place on the first page of Google search results.
Surfer SEO can be combined with AI copywriting tool Jasper to generate usable, relevant topics and in-depth keyword research that actually helps the writer. Surfer SEO has an effective, even demanding, content ranking scale which ranks content throughout the creation process out of 100.
This harsh ranking tool is actually its competitive advantage, forcing writers to not just create content… but to churn out their absolute best content. Sure it might seem a little tough at the time, but in the end, it is the sort of writing Google is designed to search for.
Surfer SEO integrates the number of headings, paragraphs, and images into its ranking tool so if your piece is dependent on pictures, you can make sure you get extra points for that!
SurferSEO Cost
Are you ready for this?
You can actually try out Surfer SEO for free. That's right. Free content optimization tools are perfect for start-ups or small businesses with a small budget.
Of course, if you choose to fork out for a paid version you will reap better rewards. Prices start at $49.00 per month for a basic plan; $99.00 for a pro plan; and $199.00 for a business plan.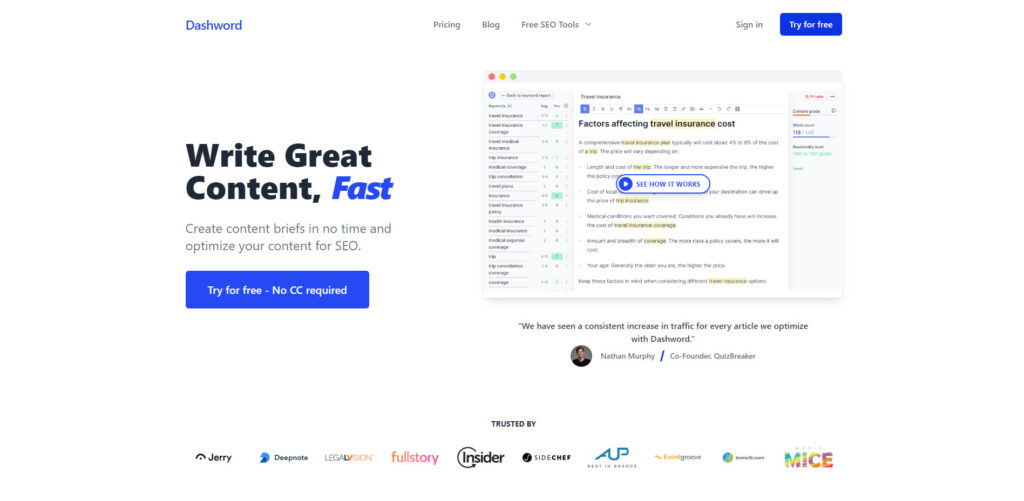 2. Dashword
Dashword is a similar, popular SEO content writing assistant, and is generally considered another of the best Clearscope alternatives. Dashword is particularly skilled at content planning and content briefs. When you begin writing about a topic, Dashword will suggest a unique content outline based on high-ranking, existing content.
Dashword functions in a very similar way to Clearscope. This SEO content tool conducts in-depth keyword research by analyzing high ranking content already available on Google and extracting the relevant terminology.
Where Dashword really excels is in its real-time, optimization feedback. What this means is that from the moment you set pen to paper (figuratively speaking) Dashword is checking it; scanning your piece for optimum keyword usage and content readability. Dashword can suggest improvements while you write, enabling you to create SEO content faster.
Dashword is popular for teams and enables up to five users to collaborate on a shared content strategy.
Dashword Cost
Similar to Surfer SEO, you can use Dashword for free. A free trial will get you one complete report without spending a dime so you can be doubly sure that this is the content optimization tool for you.
After that one fabulous, free trial, expect to spend $39.00 per month for the hobby plan. This will get you five reports a month for up to three users. The $99.00 per month startup plan will provide twenty reports, with space for five users; or the $249.00 business plan will ensure as many as a hundred reports with ten user seats.
Irrespective of which plan you choose, you will have access to content monitoring, with the startup and business plans including premium support.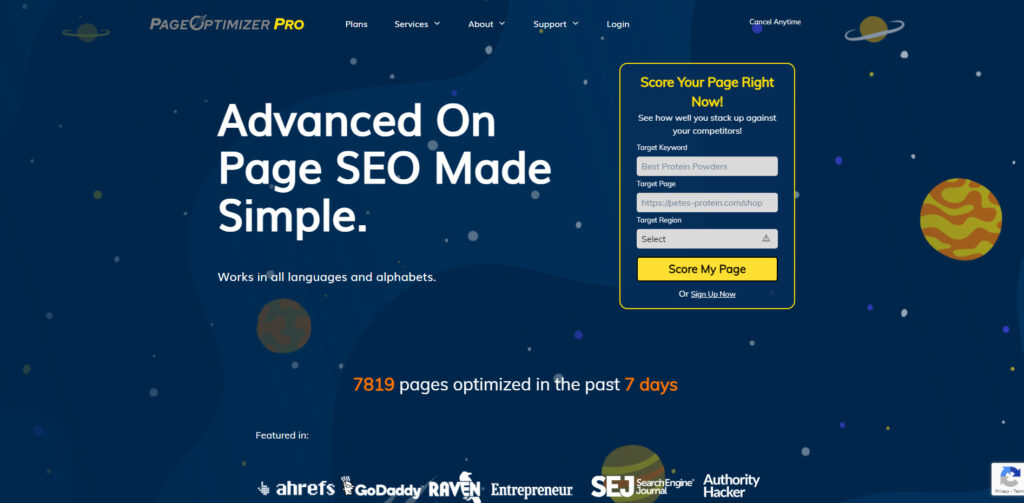 3. Page Optimizer Pro
Page Optimizer Pro is yet another content optimization tool which can aid in the research process and make apt keyword suggestions. Does Page Optimizer Pro (or POP) really have a competitive edge among the best Clearscope alternatives?
Unfortunately for Page Optimizer Pro… it is ever so slightly dated. Unlike other content optimization tools, POP has not actually updated its software for quite a while and this has reduced its online visibility.
The short answer: POP does what it says on the tin. They will conduct keyword research and make appropriate keyword suggestions. The longer answer: these keywords are probably just 'single' words and not the best quality. This really is the budget choice.
It isn't all bad, however. Page Optimizer Pro does offer three package options, with something to suit the lone worker; the small business start-up; and the more experienced company team dynamic. Page Optimizer Pro states clearly that they work in any language, using any preferred alphabet.
Page Optimizer Pro Cost
Ah, the real reason you might find yourself considering Page Optimizer Pro. The unfortunate truth is that they really do not compete with Surfer SEO, Dashword, or other Clearscope alternatives. Yet if budget is your key concern… well, you could do worse.
POP offers a seven-day free trial which you can cancel at any time. If you decide to stick with them, you can choose between: $22.00 per month for 12 reports; $33.00 per month for 25 reports; and $44.00 per month for unlimited reports.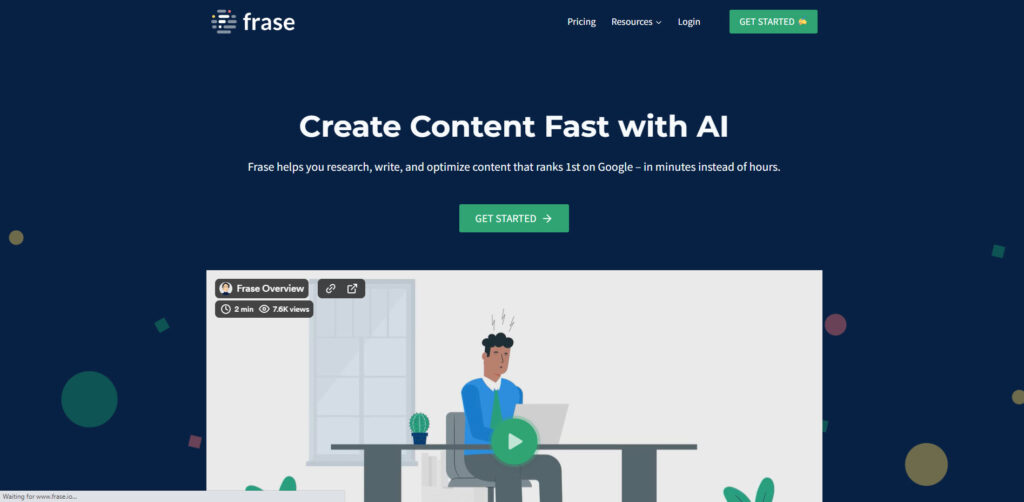 4. Frase
Frase remains a competitive alternative to Clearscope, offering an effective keyword research tool and a whole host of additional key features. Frase will automatically crawl many online locations but if you are already generating organic traffic, you can sync your Frase account with the Google Search Console for maximum SEO efficiency. Not bad, huh.
Frase is a bit of a boss when it comes to on-page SEO (that's everything written literally on the page) including: keyword choices, titles, and the average word count. Frase uses a built-in AI content generator laying out suggested keywords and even has a handy paraphrasing tool – because we all have that day when we just can't get the wording right, right?
I guess you could call Frase a jack-of-all-trades. Frase includes a slew of key features that will optimize content length; keyword usage; and readability to ensure your piece attracts maximum organic search traffic. However, their strength is really in helping you create a content brief.
There is a drawback to Frase, though, in that its user interface is really not the most friendly. I mean, it isn't bad, but it is more manual than Surfer SEO or Dashword. With this in mind it might be a great budget choice, but perhaps not the ideal SEO writing assistant for a total newbie. That being said, it is still a pretty awesome Clearscope alternative.
Frase Cost
You can get started with a five-day trial for just $1.00. This is ideal when checking out the best Clearscope alternatives, as you can change your mind in a week without breaking the bank.
If you choose to stick with Frase, you can expect to pay: $14.99 per month for four articles and one user seat; $44.99 per month for thirty articles and one user seat; or $114.99 per month for unlimited articles and three user seats.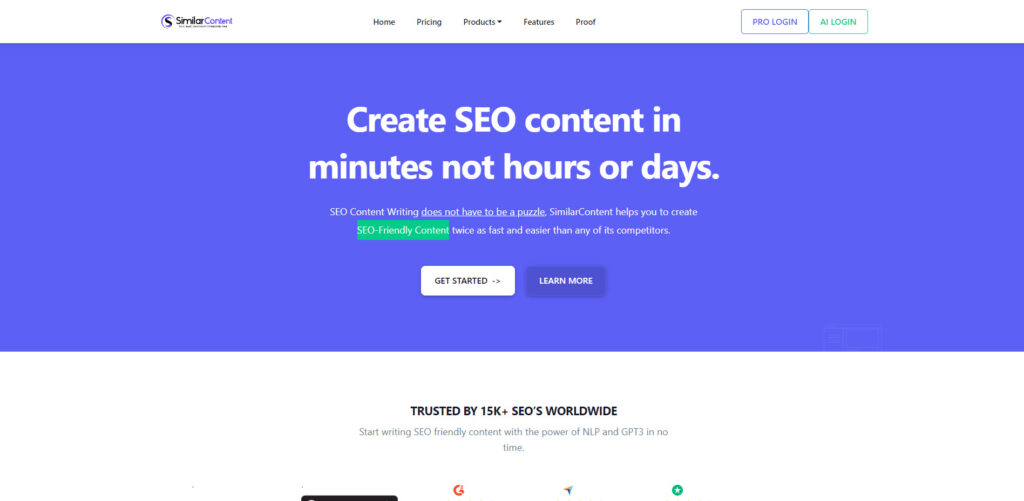 5. SimilarContent
The SimilarContent search optimization tool remains decently popular, while perhaps not as remarkable as Surfer, Dashword, or Clearscope itself.
Let's start with the positives. SimilarContent is easy to use and does exactly what you would expect or need it to do: calculating average keyword volume and usage, and crawling high ranking Google articles for suggested keywords. SimilarContent uses AI copywriting technology to help speed up the content writing process. All is good…
Okay then, the not so good: it is a lot less automatic than other Clearscope alternative options. Instead of ranking the piece as a whole, SimilarContent is a bit of a patchwork, using individual content editor tools to rank words, analyze questions, and generate ideas individually… which is time-consuming and frankly, unnecessary.
One more thing about SimilarContent… the keyword choices are not that great. Similar to Page Optimizer Pro, expect a lot of individual words with little to no competitor insight. I'm going to refer back to what we said about POP: it does what it says on the tin… just no more.
SimialrContent Cost
Well, SimilarContent is definitely a budget alternative to Clearscope because prospective users need only make the one, lifetime payment of $79.00.
Unlike competing SEO tools there are no different plan options. This one payment accounts for ten optimized articles per day… for life.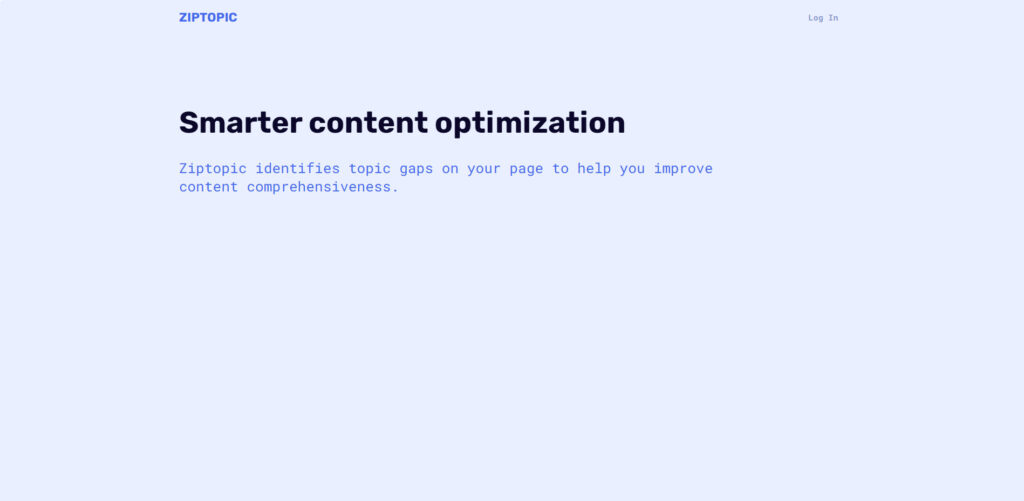 6. ZipTopic
First off, ZipTopic gets props for the catchy name. Whilst not quite overflowing with technical SEO features like some of the other tools we have considered, ZipTopic has carved out its own specific niche. ZipTopic identifies topic gaps within a content strategy with the intention of improving content comprehensiveness.
And what does that mean… exactly?
Well, ZipTopic is an easy-to-use tool which lets you generate a report on a target keyword or the overall relevance of your piece… or site. ZipTopic does not exactly create content, but rather helps to identify gaps in existing content. Similarly, ZipTopic can rustle up some decent competitor insight and give examples of existing, well ranked content that covers your gaps.
So what's wrong with it? Well, many users claim that their list of keywords is underwhelming with nothing more than single words that are unlikely to garner a front page listing on Google results.
Ziptopic Cost
The reason ZipTopic has a place on this list…
You can try ZipTopic for a free trial. Hey, plenty of people do use it and like it just fine, so it might work out for you. If not, you haven't lost anything.
If you decide to stick with them, you will be paying $19.99 per month for unlimited reports.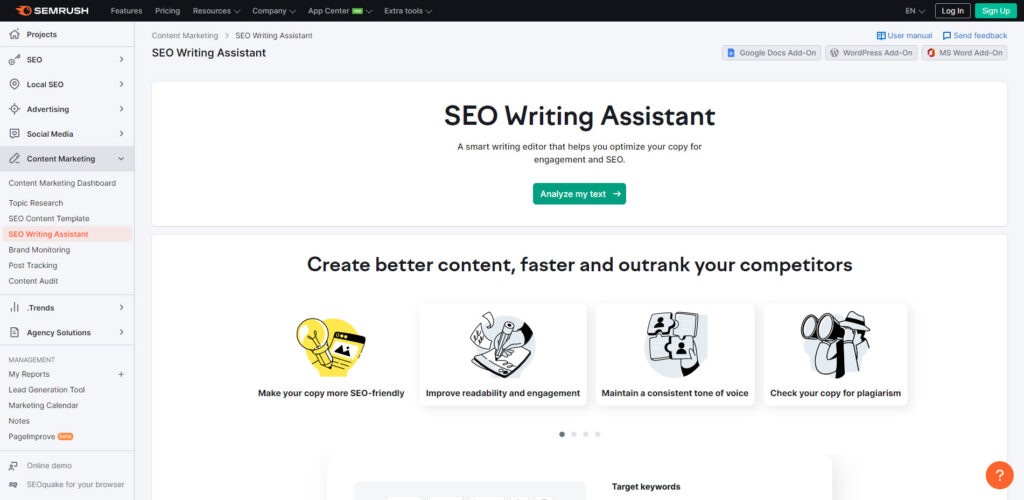 7. SEMrush Content Assistant
Coming in last but by no means least, are all-in-one marketing software providers SEMrush. This complete, digital marking research tool has evolved over the past few years to incorporate additional features, making it a real contender among Clearscope alternatives.
SEMrush writing assistant started out as a Google Docs add-on focusing on the on-page content strategy. This means its key focus was always on the blog or site page, with a (slightly) lesser focus on establishing backlinks or maintaining off-page content optimization. Having increased in popularity, this tool is now a small part of the larger SEMrush platform.
What SEMrush does is keep things simple. Sure, that means it might not be as much of a force to be reckoned with as Surfer SEO or Frase or other Clearscope alternatives, but it is a great, effective tool for a start up company or anyone who is less au fait with the finer points of SEO.
SEMrush will give your piece a content score based on keyword reports, readability, and the originality of your written word. It will also give you some simple but relevant recommendations. Okay… so what? All the SEO tools on this list do that.
What SEMrush also does is crawl each page of your blog or site and generate instant, real-time feedback with suggested action. Click on the Ideas button within the SEMrush platform to see actionable page improvements; with a further Get Data Behind It option if you would like to know why SEMrush is recommending these improvements.
According to the company site, SEMrush is not just about generating high ranking content but also helping you to understand how competitors have achieved a higher rank, and how you can too. It is simple, easy to use, and a good spread across all areas of SEO.
SEMrush Cost
Sit down for this one…
It's free. Well, it can be free. Of course, if you stick with the free plan you will only enjoy access to some of the available toolkits but if you are looking to keep things to a budget it might be enough.
You can enjoy a seven-day, free trial with full access to all the bells and whistles too if you are thinking about upgrading to a paid plan. If you do decide to upgrade, expect to pay: $119.95 per month for five projects; $229.95 per month for fifteen projects; or $449.95 for forty projects.
Final Thoughts
Just what is the best Clearscope alternative? Well… that's a matter of opinion.
Just reading through this list it is clear that there are a number of key competitors but each one is on this list for a different reason. Take the weaker candidates, for example… Page Optimizer Pro and ZipTopic are up for consideration due to their low prices and extremely budget-friendly options.
With regard to functionality, you would be looking at Surfer SEO, Frase, or even SEMrush, but even then the SEO tool you choose ought to depend on your own preference. SEMrush is great for those starting out because it offers actionable feedback with a clear explanation of why said action will improve your SEO ranking.
Frase is an ideal choice for a user or team with a little more experience in SEO. Frase comes into its own if your site is already generating some organic traffic by syncing with the Google Search Console… even if the interface is a little imposing to users with less experience.
Last of all, we get to Surfer. Surfer SEO was launched as a content optimization tool, which later incorporated additional content creation features. This sets it apart from many competitors and in my opinion, gives it the most well-rounded capabilities.
I would opt for (and personally use) SurferSEO. It provides high-value keywords and offers additional tools depending on how deep you want to go. It's not the cheapest on this list but it is still more budget-friendly than Clearscope.