Ecommerce keyword research directs your SEO strategy.
It enables you to know what pages to create, what content to create and most importantly the type of content to create to give you the best chance to rank in search engines.
It can also help you understand the size of your SEO opportunity for your ecommerce site and the exact terms your customers are using to find your products in the search engine.
How keyword research has changed
Keyword research is no longer just about 'keywords'.
Sounds counter-intuitive right?
Well, it takes so much more than just keywords to understand how best to approach your overall keyword research.
You will need to combine search volumes, keyword difficulty, commercial value keyword intent, and more to define your keyword strategy for your online store.
And it is so much more than just finding high search volume keywords.
So what are the right keywords for your ecommerce store?
How the keyword research process works
My keyword research process has 4 steps:
Source your keyword list (we go broad on each product)
Cluster your keywords
Map keywords to specific pages (existing or new)
Prioritise your content keywords
While there are many keyword research tools you can use, our keyword research process uses just two:
There are optional additional tools you can use to pull in more keyword opportunities which I will run through.
Sourcing your keyword list
To start with we need a seed list of keywords.
The process starts with your core product or category.
We'll run through an example of my DTC brand Village Cricket Co.
We sell a cricket bat so that was the top-level keyword I put into Ahrefs Keyword Explorer.
I also added the plural 'cricket bats' to capture as much variety as possible.
Ensure you select your target market – if you are doing international SEO then you'll need to do this for each target market.
Selecting the 'Matching terms' gives you every potential variation within Ahrefs keyword database.
Next up, filter the list.
I wanted to keep it broad but relevant so I removed brand names, products we weren't going to sell, and random other keywords that weren't relevant (like crossword clue).
You can do this inside Ahrefs, or in the Excel export.
Ahrefs is much more than a keyword research tool however, their Keyword Explorer tool is super easy to use.
For a slightly more affordable keyword research tool, you can check out Keywordtool.io.
Find more keywords for your ecommerce website
Here are some more ways to build out your initial keyword data, using more keyword research tools.
1. Google Search Console
If you already have a site with rankings, it will be a great idea to pull the keywords you already rank for from Google Search Console.
Log into your GSC account.
Head over to performance and download the list of queries you currently rank for.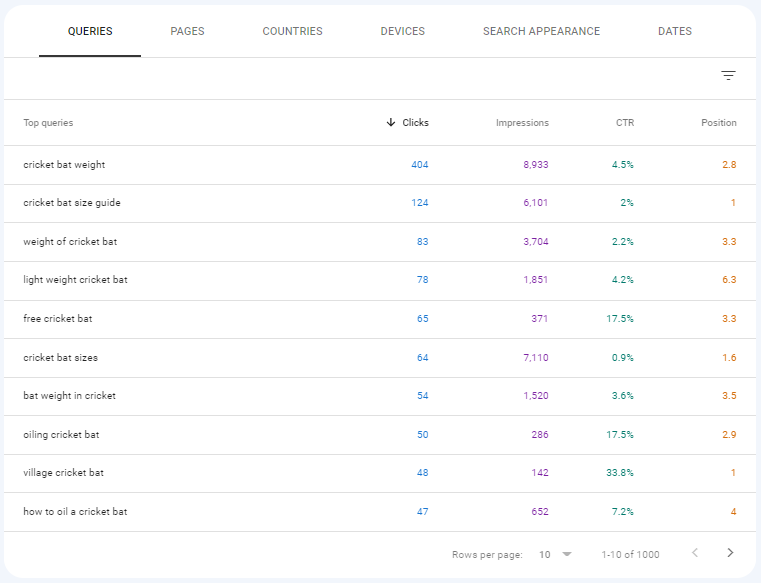 2. Questiondb
Questiondb finds the questions people are asking about a specific topic. It pulls these from a database of 48M questions sourced from Reddit and is fantastic at finding related keywords.
Simply put in your keyword to find relevant questions and search queries.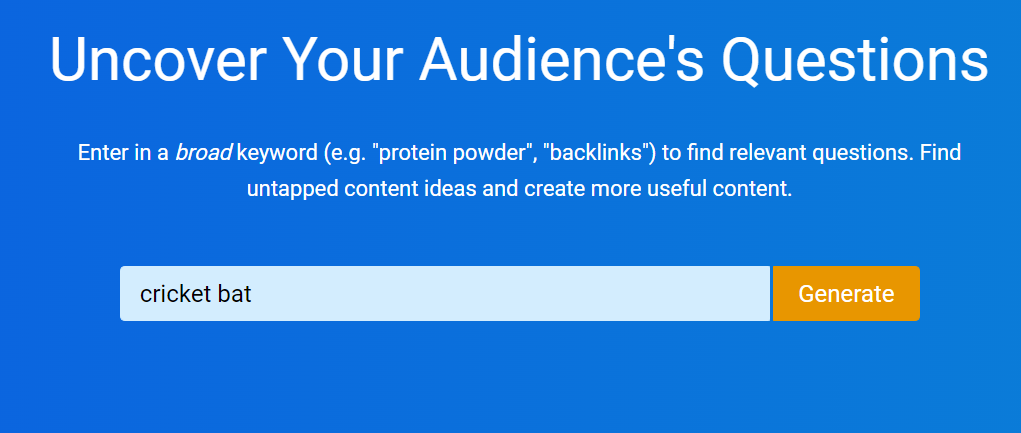 Export the keywords, and put them into Ahrefs to get search volumes.
3. Competitor Keywords
Competitor research is a crucial part of defining the SEO strategy for your online store.
And finding the specific keywords that they rank for will help.
To do this, head back over to Ahrefs.
Put your competitor into their site explorer tool.
Click on the 'organic keywords' tab.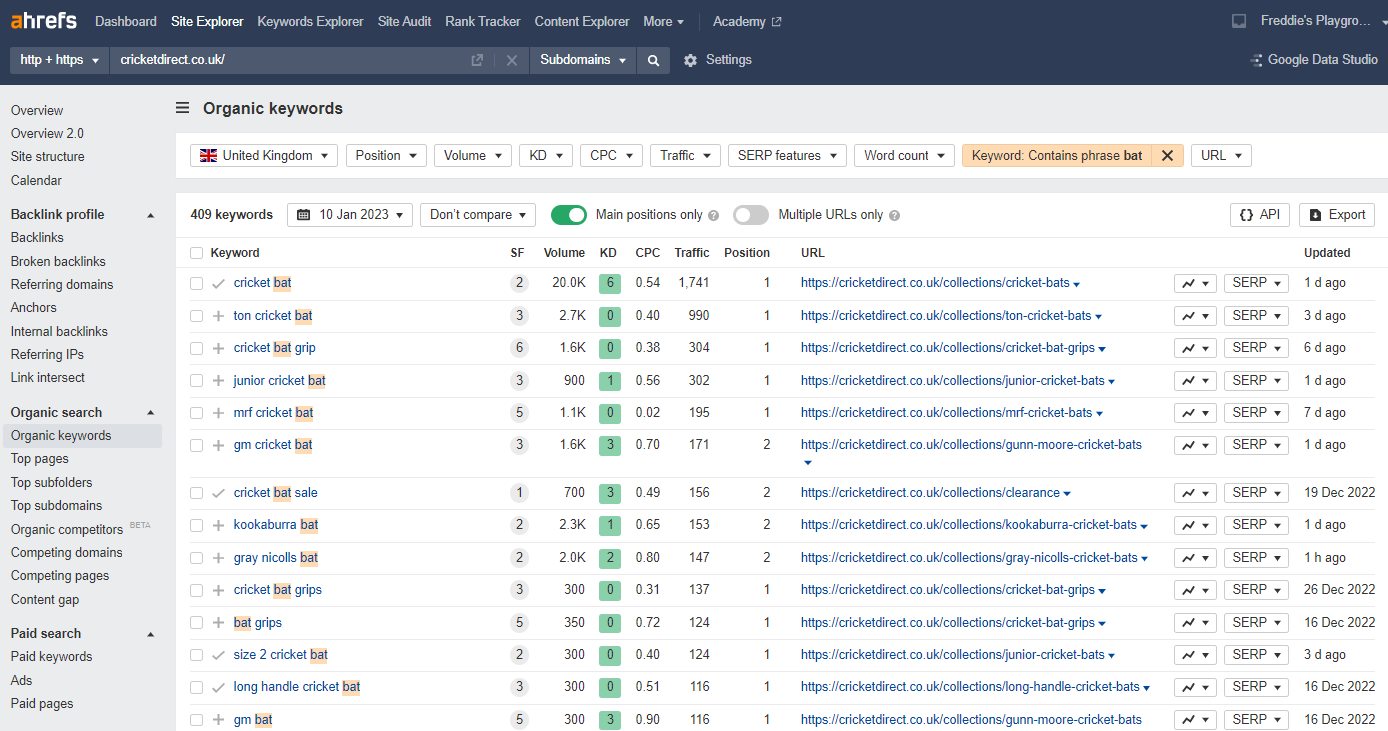 You can filter the report to ensure the keywords are relevant to your online store.
Now we have all the keywords! And we're ready to move on to the next step.
Clustering your keywords
Now you have your list of keywords.
We need to cluster them.
Keyword clustering is a technique for grouping keywords by a common modifier, a word or phrase that extends the seed term
For this, you use Keyword Insights.
Start a new project, name it and set your targeting.
Select Cluster and Context to find the best opportunities (add rank if you have a site with rankings).
I leave the advanced settings as they are, they know what they are doing.
Then upload your Ahrefs keyword export.
They even have a cool duplicate detection feature so you don't overpay.
Then generate your report.
Wait patiently, grab a coffee, and before you know it…
You have:
Keywords clustered into what keywords should be targeting a single page
There may be a few irrelevant clusters from missed brands to remove, if so, you can quickly remove these.
Mapping your keywords
Now you've clustered the keywords, we need to map them to pages on your site.
We use a combination of factors to do this, the first is search intent.
Search intent (or keyword intent) is the WHY behind the search query.
Simply, there is informational intent and there is commercial intent.
In search engines' eyes, informational intent keywords are looking for longer-form blog content (or what is what currently ranks).
Whereas commercial keywords, the search engines are ranking product or category pages.
On an ecommerce site, there are five core page types:
Homepage (commercial intent)
Category pages (commercial intent)
Product pages (commercial intent)
Landing pages (commercial intent)
Content pages/Blog posts (informational intent)
If you already have a ranking ecommerce site, then you can map existing pages to your clusters.
If you don't then all clusters will need to be mapped to new pages, you can decide whether they will be category pages, product pages, landing pages or blog posts.
Prioritising your keywords
So now you have a great list of clustered search terms, mapped to specific pages with clearly defined search intent.
And whilst you would love to work on every page right away – it is important to prioritise.
For this, you can use the TOP Framework.
The framework will help you work on the right pages first, so you can drive more traffic and sales as efficiently as possible.
We are all limited on budget or time.
You will need to look at the following options…
Traffic Opportunity
Opportunity to Rank
Potential Commercial Value
Or better known as the TOP Framework.
Here's how…
The first step of preparing the keywords for prioritisation is to bring in the keyword difficulty metric from Ahrefs into the keyword cluster sheet.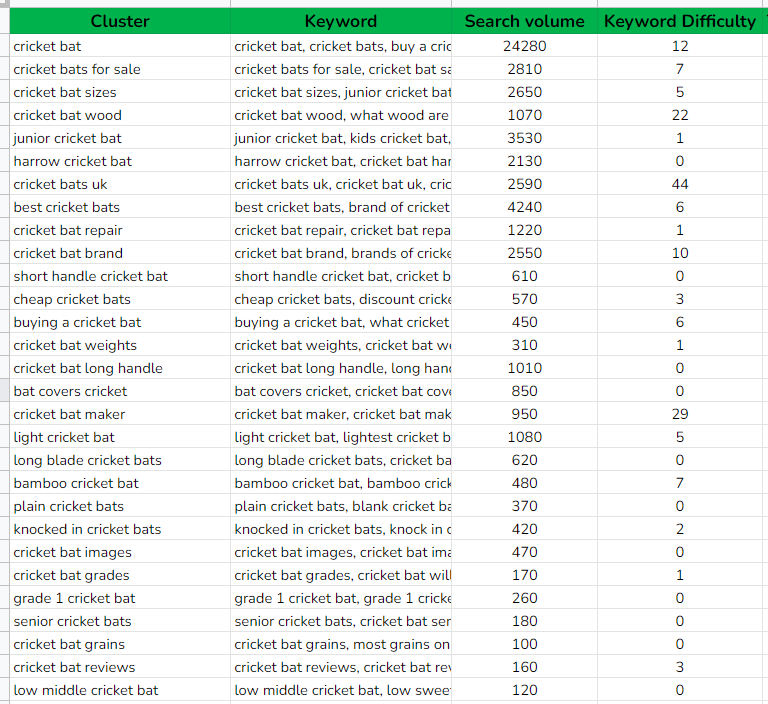 Traffic Opportunity
This gets scored simply by reviewing the total search volume of each cluster.
Sort the list by the search volume column.
Distribute a score of 1-5 (5 being the highest search volume).
You can equally set them out (top 20% of search volumes score 5, and work down) or you can review each search volume and be more precise.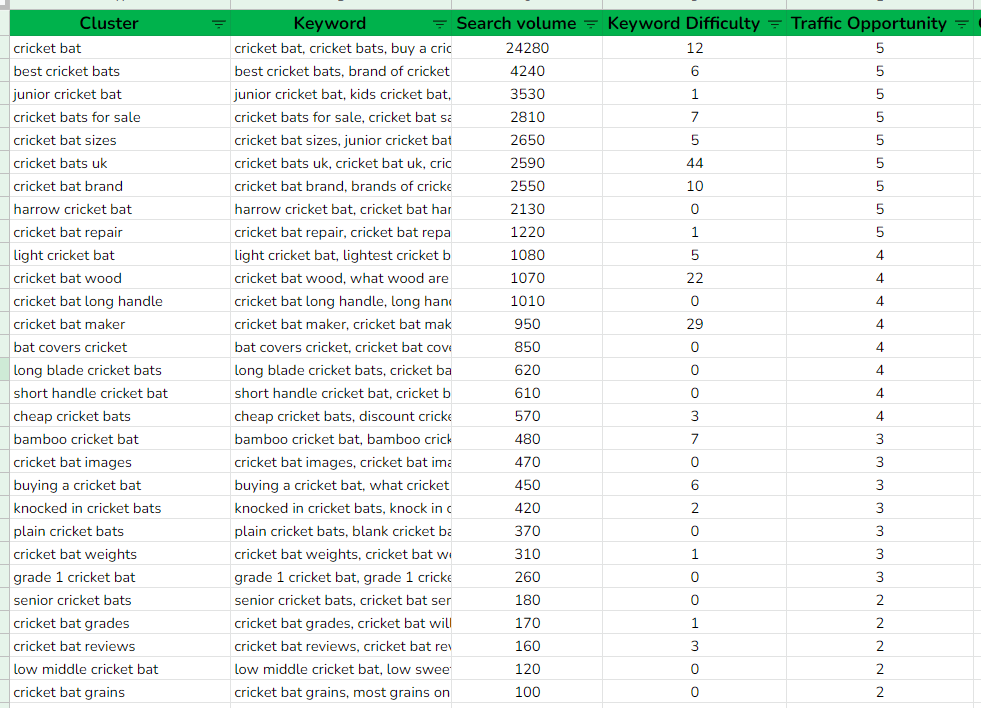 Opportunity to Rank
Next up, you need to determine how likely you are to rank for the target keywords.
This score utilises the keyword difficulty score, in this instance from Ahrefs.
Now the score itself is by no means foolproof and does have some flaws.
But for the purpose of the framework, we base the Opportunity to Rank on a combination of what keywords the site currently ranks for and their keyword difficulty and use that as the benchmark.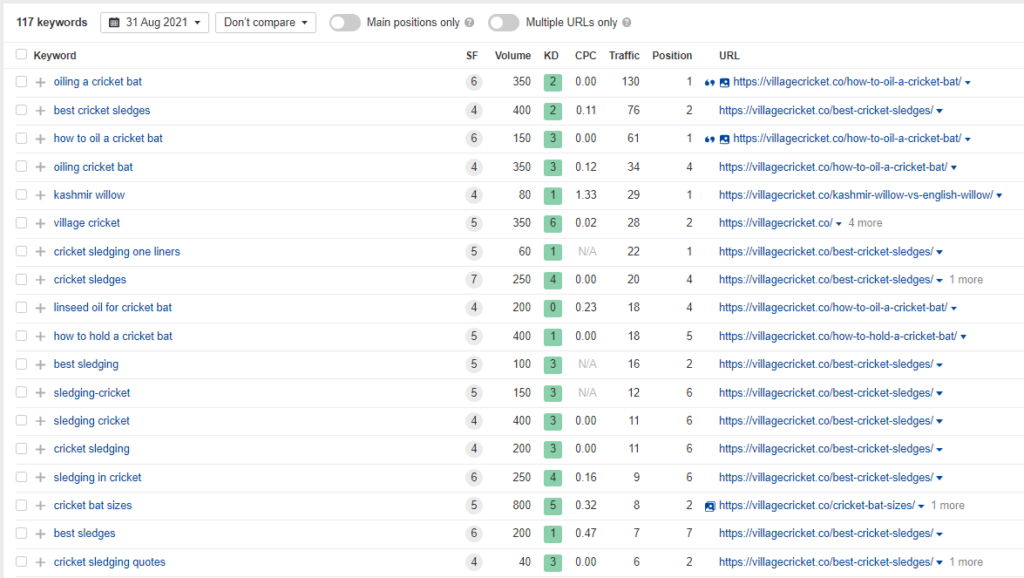 So if you are ranking well for search terms with a difficulty rating of 30, you can set almost any keyword below this number as 5 (most likely to rank) and then stagger it down.
If you are a brand new website and don't rank for anything, keyword difficulty of 10 or below should be your highest.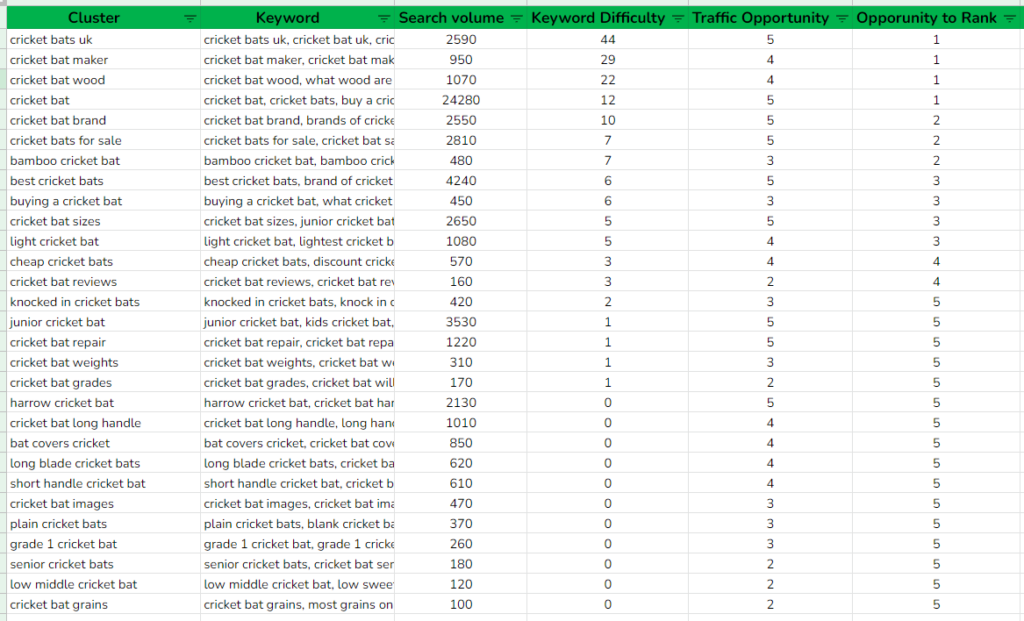 Potential Commercial Value
The final part is more subjective and likely needs to be conducted by someone with a strong understanding of the business, its products and its target audience.
In our example you can see 'how to hold a cricket bat' is extremely unlikely to ever result in a direct sale, the term itself is more likely searched by someone who already has a cricket bat.
On the other hand, our bat was pre-knocked in – making 'pre knocked cricket bats' a fantastic opportunity.
With a good understanding of the market, you can assign the scores based on how likely someone would be to convert after searching for those keywords.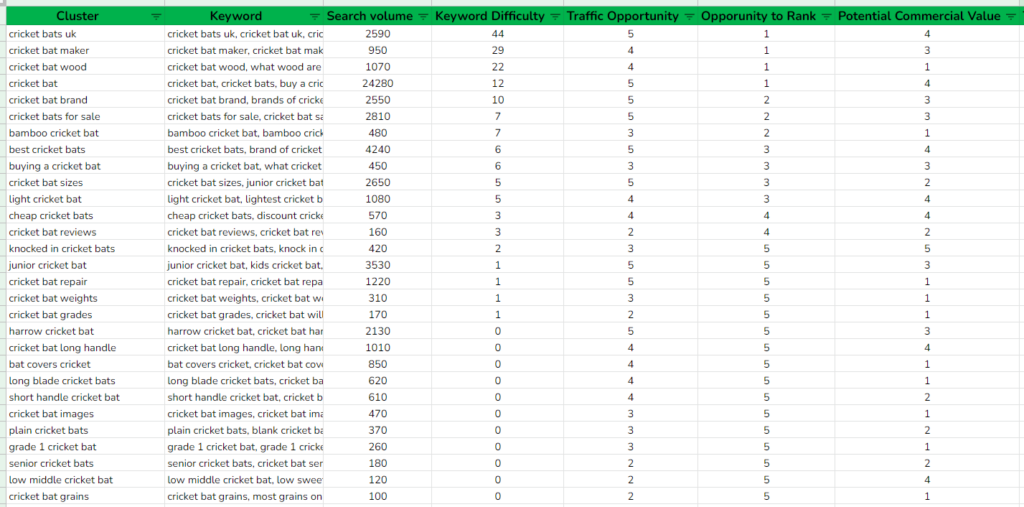 The TOP Scores.
Here is how it turned out with the scores…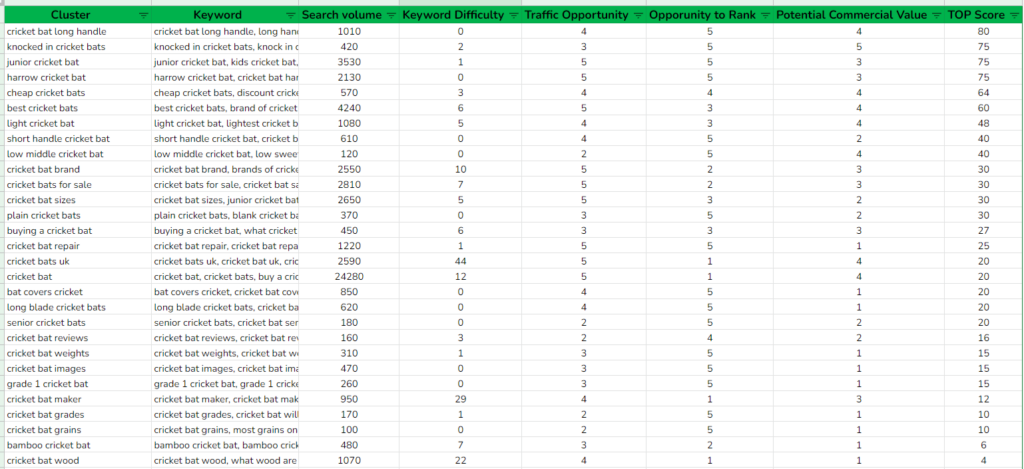 Each score is unique to the website that it is being created for depending on the batch keyword clusters.
You now have a prioritised list of clusters for your ecommerce store.
You will likely see the top of the list are low competition, lower search volumes and higher commercial value for your brand.
These long tail keywords are ideal to target particularly for newer brands but also even more established sites as they will drive quicker results, traffic from search engines and most importantly sales.
You can work through optimising or creating new pages for your site to ensure you have full keyword coverage.
Now what?
Now the real work begins on your ecommerce SEO strategy.
You have target keyword clusters.
Whether they are mapped to existing pages or new pages.
Go optimise them!
Grab a free TOP Framework template here (no email required).
Ecommerce Keyword Research FAQs
Is the Google Keyword Planner tool still helpful?
The Google Keyword Planner tool can still be useful to some extent, but what I see more often is they are less precise and give a very large range which doesn't really help you as much as other tools. That said, the Google Keyword Planner can still be used to sense-check some of your keyword research findings.
How important is Keyword Difficulty?
The keyword difficulty metric from different tools can give a good indication of how hard it may be to rank for your target keywords, however, it can often be misleading so it is a good idea to check out how who is ranking. You can have a keyword difficulty score of 2 but every site in the top 20 is very authoritative so it would be harder for you to rank in Google search for that.
How does keyword research for ecommerce differ from other industries?
Largely the process is similar. However, the structure of ecommerce sites is slightly different to other types of businesses (SaaS have feature pages, Services have offering pages, etc). There is more of a requirement to fully understand the search intent so you can map each particular keyword to specific types of pages on the site.
Do you offer keyword research as a service?
Absolutely! It might sound weird but I love doing keyword research, so I'd be happy doing it all day long. You get a fully packaged, clustered keyword list, mapped to specific pages to help drive your ecommerce SEO keyword strategy. Want more information? Get in touch.