If you've made an effort to build your brand, the chances are people are searching for discount codes for your site.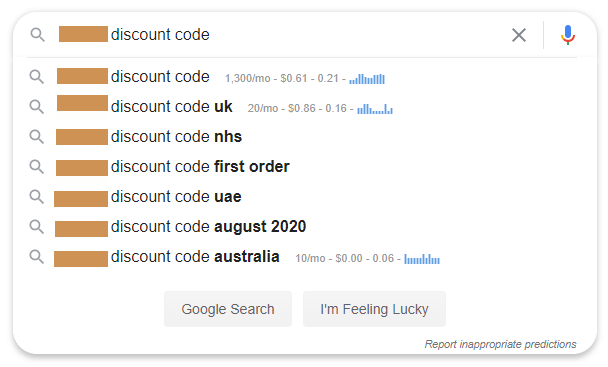 These terms come in various shapes and sizes, 'BRAND coupon codes', 'BRAND voucher codes 2020', etc.
You'll see that these results are dominated by voucher code websites ranking for your brand.
This is a valuable piece of internet real estate that you can easily reclaim for your brand.
And it will boost both your sales and profit at the same time!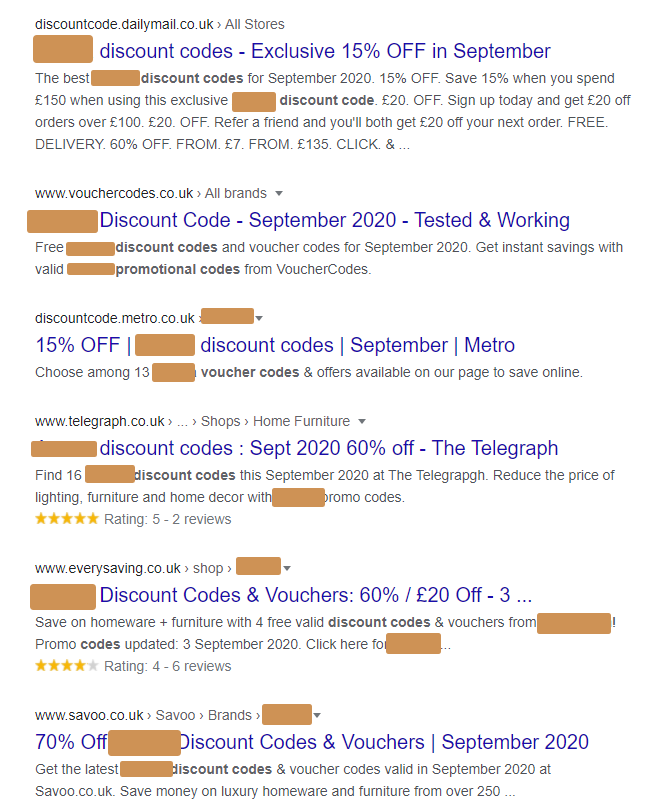 These keywords are much easier for you to rank for as they are essentially branded keywords so you should be on that first page within a matter of weeks, if not sooner.
How can you do it?
So there are a few different ways to proceed depending on your brand's policy on discount codes.
The one thing you should do on your landing page no matter your policy is you should be collecting as many email addresses as possible.
You frequently offer discount codes
This should be the hub of your deals. If you're letting affiliates make money off of your codes then you should definitely be featuring them here.
An example of this type of discount code page is Dominos (someone should tell them to start collecting more emails).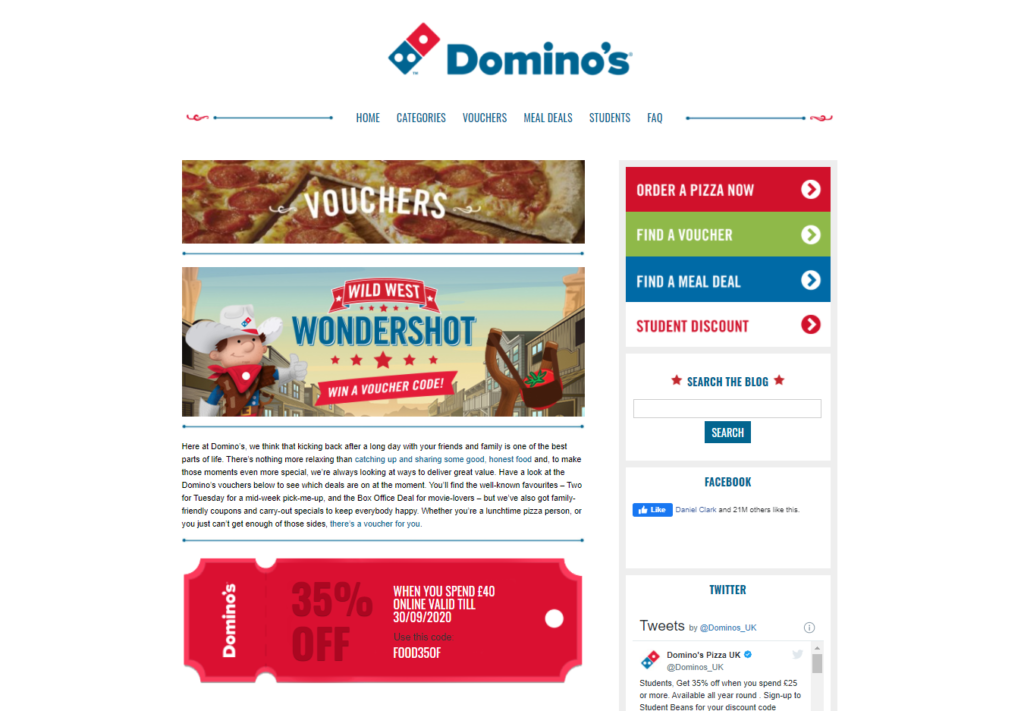 You don't offer discount codes but do have an introductory offer
The best thing to do here is to call out right away that it is out of the norm that you run discount codes.
If you have any price-related policies such as price matching make sure it is made prominent on this page.
Present your introductory offer via an email sign up form whilst highlighting the key benefits of both signing up and shopping with your brand.
A great example of this type of voucher code page is Zest.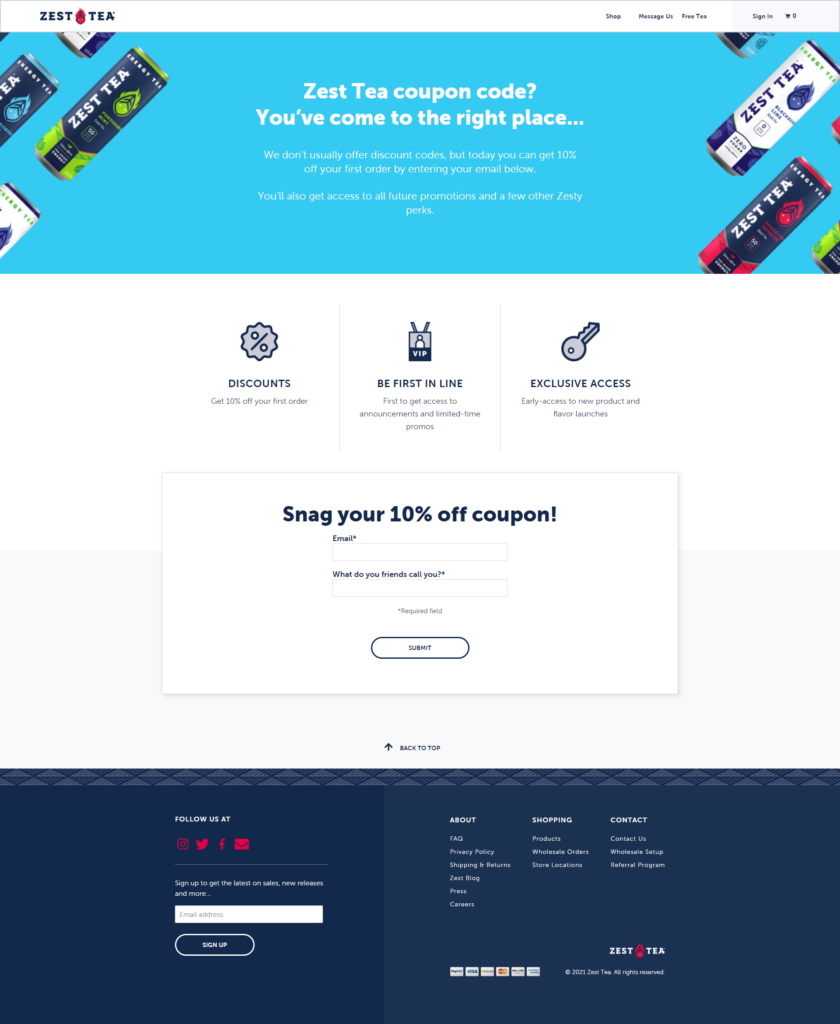 You don't offer discount codes or have an introductory offer
Just because you don't offer discount codes or offer any sort of welcome offer doesn't mean you can't take advantage of a discount code page.
After all, any other results in Google's results won't have any codes. So you might as well still own this prime real estate for your brand.
You can use the page to explain any current promotions you are running (seasonal, Black Friday, etc) in a tone that fits with your brand message.
Admitting that you don't offer discounts and coupon codes, you can treat this page as an opportunity to explain your brand's position and key selling points.
This can be enough to build the consumers trust so that they will not leave your site to look for deals from competitors and in fact make a purchase.
And while you're at it… collect those emails!
What sort of results can you expect?
This depends almost entirely on the size of your brand.
The larger your brand (the more people are searching for it) the highest levels of return you will get from this tactic.
Conversely, this is probably not going to attract a lot of income for new ecommerce brands. However, if you get it set up early. You can age that page and get it ranking ready for when you are the next big brand.
If you set it up to collate emails, you can expect a huge sign-up rate.
One brand I've worked with this sort of page has seen a 50% sign up rate and over £200,000 attributed in revenue within 18 months of launching the page.
By ranking organically for discount queries, companies can avoid paying affiliate fees to coupon/deals sites that can charge up to 6%
With customers on your email list being twice as likely to return to shop again this can make a huge difference to your customer lifetime value.