Most SEO case studies are aspirational.
They often show you how said company achieves millions of visitors per month – which is always interesting.
But often show very top-level strategies and often miss the millions of dollars of budget many of these companies have spent on SEO.
So I wanted to build out a fuller SEO case study of my own brand, Village Cricket Co.
Which just this week had its biggest-ever organic day in terms of traffic of over 2000 visitors!
I'm not just going to show you what I did, I'm going to show you exactly how I did each step as well.
Background
To give you a bit of background of the business and the website.
Village Cricket Co. was launched in the summer of 2020, although selling cricket bats when no one was playing cricket it was more of a soft launch to get things live and make sure everything worked.
It was in the summer of 2021 that I started to get to work on optimising the site. It's built on WordPress + Woocommerce and most pages are created using the Elementor landing page builder.
If you hadn't guessed, we sell cricket gear. Mainly bats but also protective equipment and plastic sets.
How I Started – The Research
It is worth noting that I am very interested in the sport of cricket, I've played for most of my life (over 20 years) so I knew a lot generally about the market.
One thing I noticed that didn't take a lot more research was that most brands were not very good at 'digital' and as a result, their websites were lacking.
The large incumbent brands were relying heavily on their branded search with very few unbranded search terms driving traffic to their site.
Smaller brands had focused on local marketing and websites were either barely usable or physically impossible to buy from.
Then there were cricket retailers – these are all retail shops that have then added an online store to increase their reach. They own most of the generic search terms such as 'cricket bat' but still lacked overall authority compared to other industries.
We were going to launch initially with one product, a cricket bat.
So I wanted to find the opportunities I had to try and rank for – incoming, keyword research.
And I wanted to keep things as simple as possible.
How I performed keyword research for my ecommerce brand
My keyword research process had 3 steps:
Sourced my keyword list – I went broad around 'cricket bat'
Clustered my keywords + Identify the search intent – grouping them on a page-level & to help know what type of pages to create
Prioritise my keywords – based on how much money they could make
Sourcing my keyword list
To start with I need a seed list of keywords.
For me, I wanted to know everything I could create around my core product, a cricket bat.
So I headed over to Ahrefs and put 'cricket bat' into the Keyword Explorer.
I also added 'cricket bats' as the plural to capture a wider variety of opportunities too.
Ensure you select your target market – if you are doing international SEO then you'll need to do this for each target market.
Selecting the 'Matching terms' gives you every potential variation within Ahrefs keyword database.
Next up, filter the list.
I wanted to keep it broad but relevant so I removed brand names, products we weren't going to sell, and random other keywords that weren't relevant (like crossword clue).
You can do this inside Ahrefs, or in the Excel export.
Now I had my keyword list, I exported it to a CSV.
Quick note – Ahrefs is much more than a keyword research tool however, their Keyword Explorer tool is super easy to use. For a slightly more affordable keyword research tool, you can check out Keywordtool.io.
Clustering my keywords
Now I had my list of keywords.
I needed to cluster them.
Keyword clustering entails categorising keywords that share similarities into groups. Essentially, a "keyword cluster" refers to a collection of keywords that possess similar topical meanings and can be collectively targeted on a single webpage.
For this, I used Keyword Insights.
So I headed over to Keyword Insights and logged in.
Started a new project – named it and set my targeting.
I then selected Cluster and Context insights.
I didn't need to know the rank at this point as I didn't rank for anything (if you already rank then it's good to select this option too so you can see what you can improve).
I leave the advanced settings as they are, they know what they are doing.
I then uploaded my Ahrefs keyword export.
They even have a cool duplicate detection feature so you don't overpay.
Then I generated my report.
I waited patiently, grabbed a coffee, and before I knew it…
I had:
Keywords clustered into what keywords should be targeting a single page
There were still a few irrelevant clusters, from other cricket brands that I missed when filtering. So I quickly removed these too.
There may be a few irrelevant clusters from missed brands to remove, if so, you can quickly remove these.
Identifying the search intent
Now I had clustered the keywords, I needed to identify the search intent.
Search intent (or keyword intent) is the WHY behind the search query.
Simply, there is informational intent and there is commercial intent.
In search engines' eyes, informational intent keywords are looking for longer-form blog content (or what is what currently ranks).
Whereas with commercial keywords, the search engines are ranking product, category or landing pages.
Fortunately, Keyword Insights Context insight gives this exact thing!
It tells you whether there are more content/blog posts ranking or whether it's product/category pages.
Armed with this information I knew how to map which page type to make for each cluster of keywords.
Prioritising my keywords
So now I had my great list of clustered search terms, with clearly defined search intent.
And whilst I would love to work on every page right away – it is important to prioritise.
For this, I used the TOP Framework.
The framework helped me to work on the right pages first, so I could drive more traffic and sales as efficiently as possible.
I was very limited on budget or time.
In the TOP Framework, I looked at:
Traffic Opportunity
Opportunity to Rank
Potential Commercial Value
Here's how…
The first step of preparing the keywords for prioritisation was to bring in the keyword difficulty metric from Ahrefs into the keyword cluster sheet.
Note: Since I did this process, Ahrefs have introduced a new option to identify keywords where you can filter keywords where low domain rating websites rank in the top 10. This is likely a much better indicator of what your opportunity to rank is.
Traffic Opportunity
I scored this simply by reviewing the total search volume of each cluster.
Sorted the list by the search volume column.
Distribute a score of 1-5 (5 being the highest search volume).
You can equally set them out (top 20% of search volumes score 5, and work down) or you can review each search volume and be more precise.
Opportunity to Rank
Next up, I needed to determine how likely you are to rank for the target keywords.
This score utilises the keyword difficulty score, in this instance from Ahrefs.
Now the score itself is by no means foolproof and does have some flaws.
But for the purpose of the framework, I based the Opportunity to Rank on a combination of what keywords the site currently ranks for and their keyword difficulty and use that as the benchmark.
So if you are ranking well for search terms with a difficulty rating of 30, you can set almost any keyword below this number as 5 (most likely to rank) and then stagger it down.
If you are a brand new website, like I was, and don't rank for anything, keyword difficulty of 10 or below should be your highest.
Potential Commercial Value
The final part is more subjective and likely needs to be conducted by someone with a strong understanding of the business, its products and its target audience.
So for me, you can see 'how to hold a cricket bat' is extremely unlikely to ever result in a direct sale, the term itself is more likely searched by someone who already has a cricket bat.
On the other hand, our bat was pre-knocked in – making 'pre knocked cricket bats' a fantastic opportunity.
With a good understanding of the market, you can assign the scores based on how likely someone would be to convert after searching for those keywords.
The TOP Scores.
Here is how it turned out with the scores…
I now have a prioritised list of clusters for your ecommerce store.
You will likely see the top of the list are low competition, lower search volumes and higher commercial value for your brand.
These long tail keywords are ideal to target particularly for newer brands but also even more established sites as they will drive quicker results, traffic from search engines and most importantly sales.
You can work through optimising or creating new pages for your site to ensure you have full keyword coverage.
I had a great base of keywords ready to create content.
Setting My Strategy
I had a great idea of the pages I needed, how likely I could rank and a good overall of my competition (or lack thereof).
Keeping things super simple I wanted to lean into two core areas for growth with SEO.
Content-led SEO
Authority building
BOFU Content-Led SEO
The cornerstone of my SEO efforts comes through the strategic use of content to rank for hyper-relevant and commercially valuable keywords that many competitors had not targeted giving us a large opportunity.
With the keywords, I split them into blog content opportunities and landing page opportunities.
I create SEO-driven landing pages for product variations that we couldn't target just on the product page itself, for example, the different sizes of junior bats, we created a page for each size variation, for example; Size 1 Cricket Bat.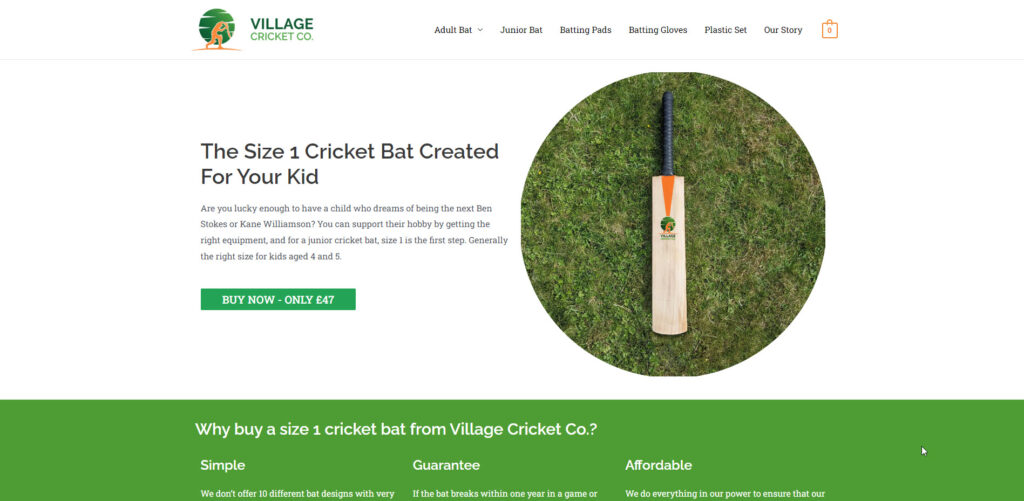 The main brunt of our content approach was creating bottom-of-the-funnel (BOFU) content from our keyword research targeting long-tail keywords such as 'best cricket bat for beginners' and lightweight cricket bat'
The plan was to drive very relevant and high-commercial intent traffic to the blog posts and then pitch our product as a solution.
A quick breakdown of our blog content approach:
Our publishing candance was rough 1 blog post per week (occasionally we published twice in a week, and some weeks we missed)
I started writing the content myself, but then found an awesome writer on Upwork who has been writing for us for over a year now
We used SurferSEO as our content optimisation tool of choice
The word count varied based on the advice giving from SurferSEO – we looked to create as comprehensive content as possible
Depending on the exact keyword, we created two types of content for the BOFU content:
Pitching us as the best solution
Showcasing us as one of the solutions
For example, in the 'pre-knocked in cricket bat' blog post, we go over the benefits of a pre-knocked in cricket bat, particularly for our exact target audience.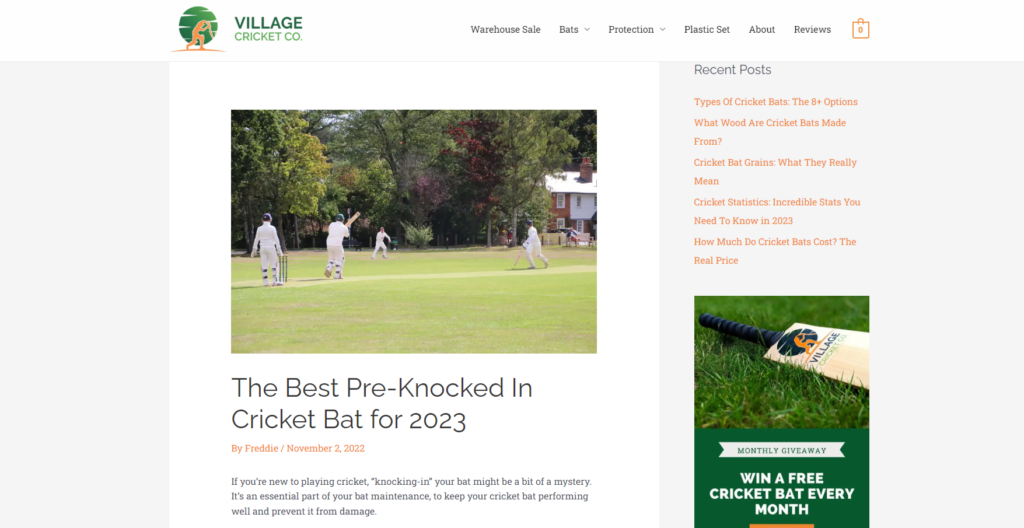 And then pitched us as the single solution (there aren't many) to this query.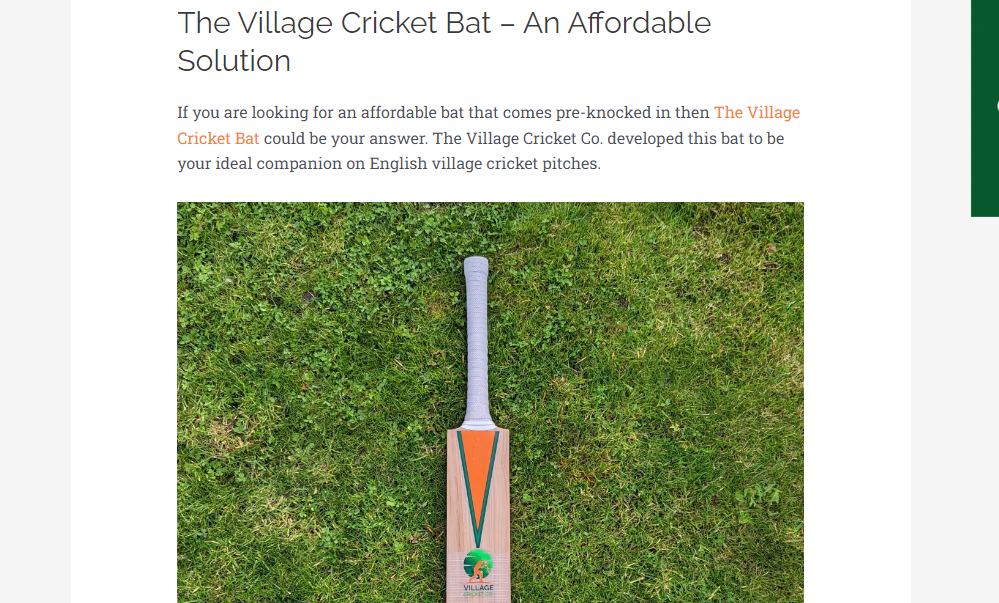 On the other side, in our 'best cricket bats' article, knowing that it is a much broader term. We do feature many other bats for different market segments whilst pitching ourselves as the best for beginners/affordable option.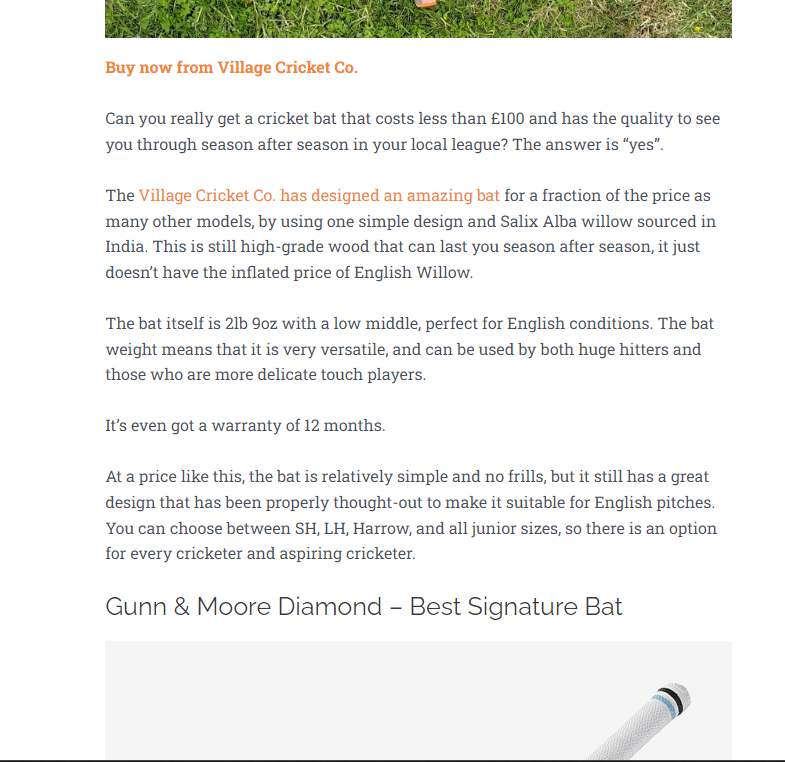 We have since launched new products such as gloves and pads, and have created blog posts around these products to similar effect. We could have even launched these earlier to get indexed and ranked, before updating these with our products.
We have also been experimenting with some more top-of-the-funnel (TOFU) content – for content that won't drive direct sales but will build topical authority and drive relevant traffic to the site.
TOFU Content Experiment
We ran a test earlier this year on Village Cricket Co. to show how SEO and email marketing can work together seamlessly and scalably.
The result, 355 new email subscribers
And 41 sales from those subscribers.
And to top it off, it cost us almost nothing.
We created top-of-the-funnel content.
This was content with a larger search volume, and low competition but also very low direct commercial value (these visitors were highly unlikely to convert into a customer on the first visit).
But it is 100% relevant to our target audience – they play cricket.
For us, this included content like:
best cricket sledges
best cricket podcast
how to hold a cricket bat
cricket bat sizes
This content had low competition, so was easier for us to rank for than the highly commercial content.
But with higher volume, it gives us the opportunity to drive a lot of traffic to our site.
Once we created the content, we set up a pop-up with a monthly giveaway to drive new visitors to our email list.
Once on the list, they received a dedicated flow educating them about our brand, story, and our products.
Our products are not groundbreaking, but they offer a unique position within the market.
The welcome flow concluded (for those who didn't win) with a discount to entice them to make a purchase.
After an initial 6 months of content creation, email sign ups and flows going out the results were:
16,614 visitors to the content
355 sign ups (~2% sign up rate, not awful but plenty of room to improve)
41 sales
£3772 revenue (50% margin)
£1800 profit
Authority Building
Whilst competition was relatively low in our industry, we were starting with a brand new domain so we needed to do what we could to catch up.
Expired Domains
There are hundreds of small cricket equipment brands in the UK and further afield. These pop up and drop off every now and then and this often leaves relevant domains that have picked up a few links ripe for the taking.
We have purchased a couple of old brand domains and redirected them to ours, this would have boosted our overall domain authority making it easier and quicker to rank for our target keywords.
I have been playing cricket for years so knew of many of these brands and therefore knew their domains to check if they were available.
Here is another method I used to find a couple more I didn't already know…
I headed over to Ahrefs and put in a large cricket publication into the Site Explorer, Wisden in this case.
Then navigate to Outgoing Links > Broken Links.
You'll then be presented with a list of broken links from the site.
Most will just be 404 pages on other sites (there is a chance for you ro recreate that content and reach out to update it) but the easier option is to look for sites that no longer exist.
You can then buy these domains, recreate their content and get relevant links back into your site.
Digital PR
We have utilised digital PR to acquire some high authority links from relevant and authoritative sites including The Cricket Paper, Cricket Yorkshire and Sage. Whilst also getting interviewed on BBC radio.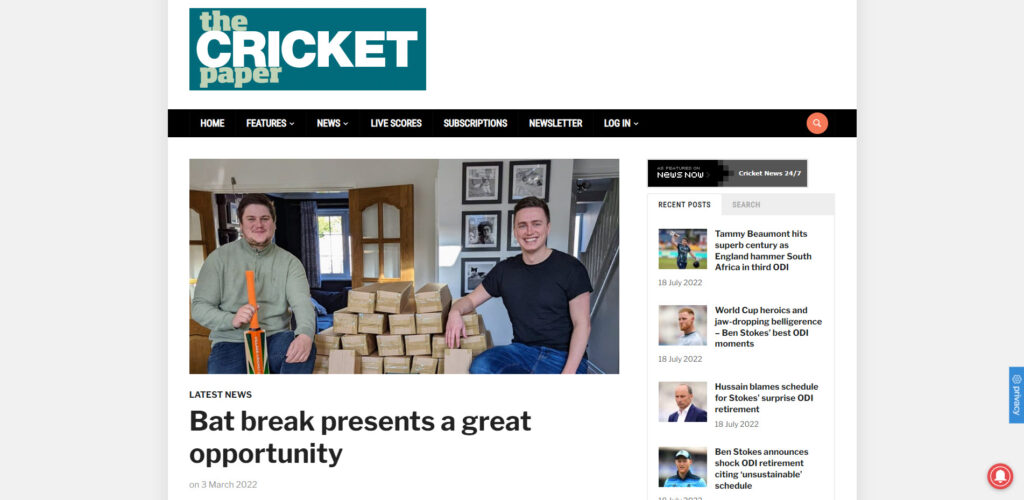 We achieved this by targeting very specific journalists who had covered similar stories on the affordability of cricket and pitched our story as a working solution to the problem.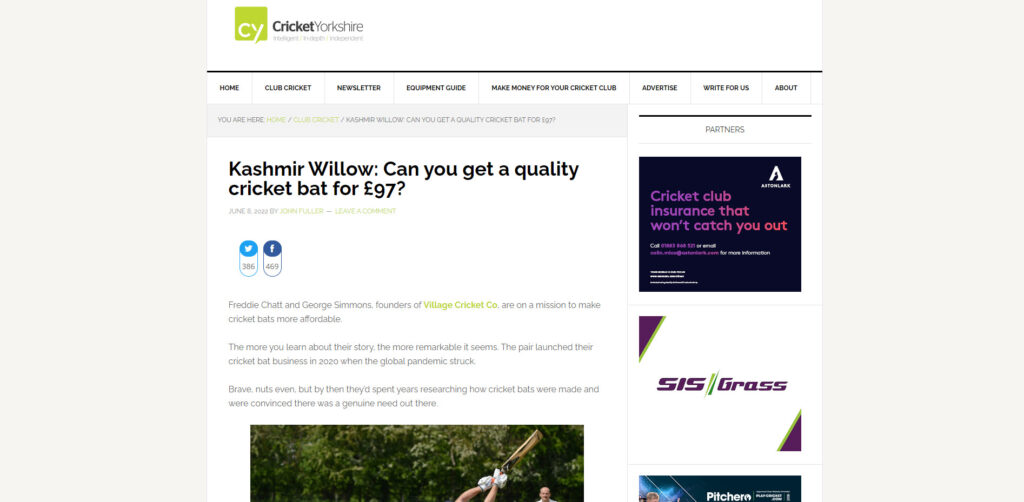 We have also launched the first price-based survey into grassroots cricket and plan to use this data as leverage to pick up further relevant and authoritative links.
What are the results?
Being consistent has seen us continue to drive extremely strong year-on-year growth. With over 400% growth between 2021 and 2022, and over 200% growth from organic search in 2023 so far.
We're playing the long game with our approach to this brand, and there is still a lot of room for organic growth into 2024 within the UK, before we even start to look internationally as well.
In terms of revenue, we had major stock issues in June, but outside of that, we would have hit over £20,000 from SEO alone.